For commercial properties that see a lot of vehicle and foot traffic, durability and safety are key—especially in this area of the country where winter weather can cause a lot of damage. SUNDEK of Washington has been installing durable decorative commercial concrete coatings in the Washington D.C., Maryland, Delaware, and Virginia areas for decades. We're well acquainted with the winter weather and are skilled at installing outdoor surfaces that can withstand the elements and indoor surfaces that are safe to walk on, even when snow and rain gets tracked in.
Contact us to get started on a project for your commercial property today.
TYPES OF COMMERCIAL PROPERTIES SUNDEK OF WASHINGTON HAS WORKED WITH
We can work with any type of business, but here are the types we most commonly work with.
At waterparks, safety is a priority. You can trust that SUNDEK of Washington will be invested in making sure the surfaces guests and employees walk on are slip resistant so that accidents can be prevented. We'll also help you determine how often you need to reseal your surfaces so they can last despite lots of foot traffic and our area's brutal winters.
(Entries, lobby floors, porte-cochères, pool decks, dining areas, and bathrooms)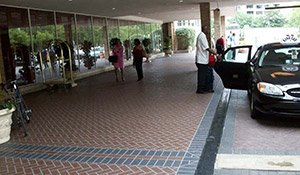 While we know you want the surfaces at your hotel or motel to be durable and safe, we also know that beauty is a priority. Impress your guests by coming up with an eye-catching design. SUNDEK of Washington can create just about anything you dream up.
(Dining spaces, kitchens, bathrooms, all restaurant flooring, and retail floors)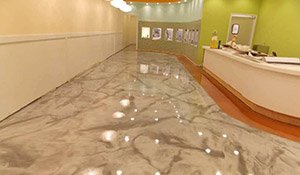 With so many customers coming and going, the surfaces in your restaurant and retail space need to be able to withstand lots of foot traffic. They also need to be safe for customers when the floors get wet—from spills or snowy boots to everything in between. SUNDEK of Washington can guide you in figuring out the best surface for your space.
(Courtyards, porte-cochères, lobbies, kitchens, break areas, bathrooms, office flooring, and vertical surfaces)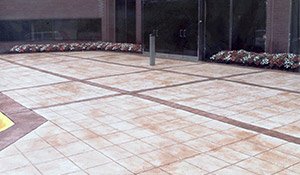 A workspace that's easy on the eyes means happier employees, so transform your offices or business parks with attractive decorative concrete floors.
(Laboratories, bathrooms, meeting rooms, waiting rooms, hospital floors, and congregational spaces)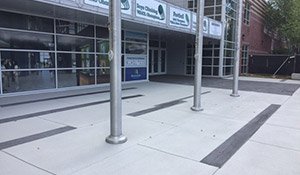 Although healthcare facilities, schools, and churches all serve different purposes, they all serve a lot of people. With so much foot traffic coming and going, in addition to a variety of equipment being transferred from room to room, it's critical that the surfaces in these spaces are durable, safe, and resistant to stains. SUNDEK of Washington can give you a decorative concrete surface that meets all of these requirements.
(Warehouses, airport hangars, shop floors, and storage facilities)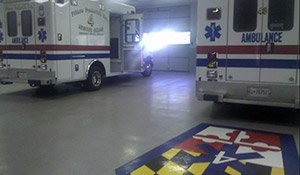 With our epoxy and polyaspartic flooring solutions, we can create a surface that can withstand the weight of heavy equipment and tools. We can also provide a proper sealer that will make your surface resistant to stains from spills—whether oil, chemicals, or other fluids that can typically damage most other flooring materials.
(Pool decks, common areas, lobbies, entries, playground surfaces, and gym flooring)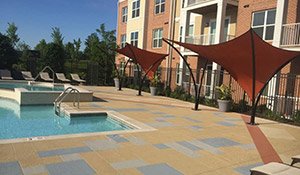 Shared living spaces should be beautiful, but they also need to be durable and safe. We can create a long-lasting decorative concrete surface in basically any design you can dream up—and we can also make it slip resistant so it's safe for your residents in all weather conditions.
(Pool decks, training facilities, and more)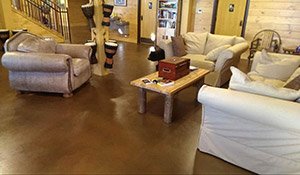 At SUNDEK of Washington, we have experience working on all types of facilities ranging from gyms to pools and everything in between. We work collaboratively, which means that we will work with you to meet your specific timeline and budget restraints.
(Playground surfaces, pool decks, and gym flooring)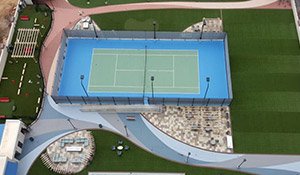 Whether the surface is for indoors or outdoors, SUNDEK of Washington can create a beautiful, durable, slip-resistant surface for community use. The design options are limitless. We have a variety of colors, textures, and patterns to choose from, including custom logos.
(Retaining walls, planters, and building walls)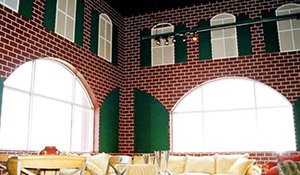 In addition to transforming the ground you walk on, SUNDEK of Washington can transform the vertical surfaces around you. We can create works of art that won't be damaged by things like water and termites.
Our commercial sevices
Epoxy coatings (indoor floors)
Textured overlays (outdoor surfaces)
Acrylic finishes
Project length
The length of your project will depend on the condition of your existing surface, the complexity of your new design, and the weather (if the surface is outdoors). Even though there are a few variables—some of which are out of our control—one thing is constant: We work our hardest to complete your project within your requested timeline.
Maintenance
We will apply a high-quality sealer to your surface which will not only make it last longer but also make it easier to clean. Our sealing services make decorative concrete surfaces less porous, so they're less likely to stain. General maintenance includes removing debris and other dirt with a broom or blower and mopping as needed.
Contact us about your project
If you'd like to talk to us about your project, fill out the form on this page and we'll contact you.
You can also contact us by phone at 866-631-8664
Or by email: info@sundek.com
We work in all the major cities in the area including:
Arlington, Alexandria, Fairfax, and Reston, Virginia
Bethesda, Frederick, and Gaithersburg, Maryland
Washington D.C. and beyond
We look forward to helping you with your next project!