Vertical Concrete Coatings
When considering where to have decorative concrete coatings installed, don't just look down—look straight ahead!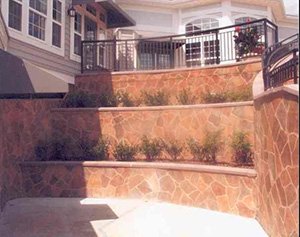 See more pictures of vertical applications
In addition to the ground you walk on, SUNDEK of Washington can also install coatings on vertical surfaces. That means any of the beautiful colors, patterns, and textures you can get on the ground can be applied to planters, the sides of walls, retaining walls, and more.
Does the surface have to be concrete for a coating to be applied?
No. We can apply coatings over brick, stucco, drywall, and painted surfaces.
Why is decorative concrete a good choice for vertical surfaces?
Even though no one will be walking on it, your vertical surface is still prone to damage from things like water and termites. With a high-quality sealer, those things won't be an issue.
What is maintenance like?
Maintenance for vertical surfaces that have a decorative concrete coating are similar to our other surfaces. The most important thing is to have a high-quality sealer applied. If the vertical surface appears to be dirty or has other debris, clean it off using a broom or hose. For hard-to-clean spots, use a non-abrasive commercial cleaner or one of SUNDEK's specially formulated cleaners.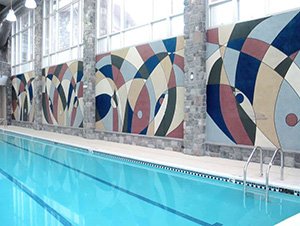 Potomac Club Condominiums in Woodbridge, VA.
Contact us about your project
If you'd like to talk to us about your project, fill out the form on this page and we'll contact you.
You can also contact us by phone at 866-631-8664
Or by email: [email protected]
We work in all the major cities in the area including:
Arlington, Alexandria, Fairfax, and Reston, Virginia
Bethesda, Frederick, and Gaithersburg, Maryland
Washington D.C. and beyond
We look forward to helping you with your next project!