If you're a home or business owner in the Washington D.C. area that needs an indoor flooring solution that's gorgeous, durable, low maintenance, versatile, allergen-free, and eco-friendly, look no further than decorative concrete floors.
Request a Free Estimate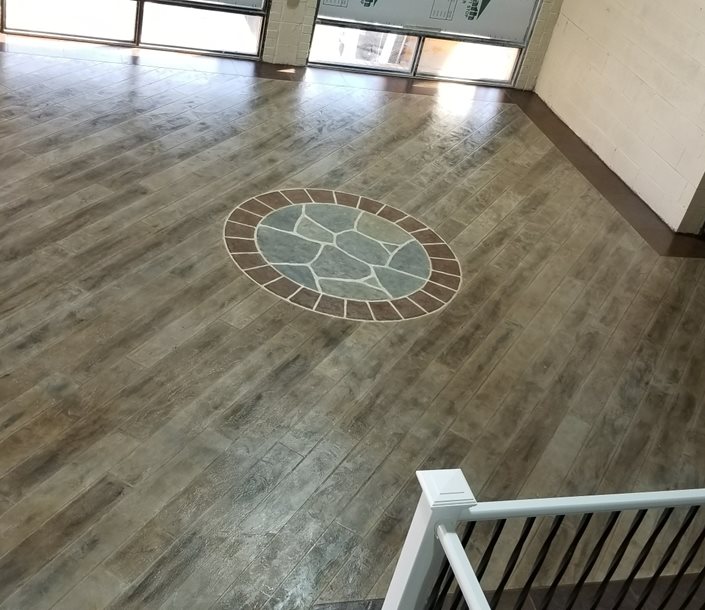 Designs for concrete floors
When it comes to designing an interior decorative concrete floor, the options are endless. There are many colors, textures, and patterns to choose from. At SUNDEK of Washington, we can even mimic the look of brick, wood, limestone, and other materials with stamped concrete. If you want to get creative with color, stained concrete is a great option.
Maintaining a concrete floor
Concrete floors are superior to other flooring materials, especially when it comes to maintenance. For example, decorative concrete surfaces don't have grout lines like tile, which makes the surface easier to clean. Additionally, materials like carpet are a haven for dust mites, pollen, pet dander, and other allergens—whereas you don't have those problems with concrete.
General maintenance includes sweeping or mopping the surface to remove dirt and grime. For spots that are harder to clean, you can use a non-abrasive commercial cleaner.
Where can decorative concrete coatings be applied indoors?
At SUNDEK of Washington, we've done concrete floor refinishing in many indoor spaces. The good news is, most surfaces can be redone with a decorative coating or stained concrete, even if there are minor cracks, stains or other issues.
What if I need concrete floor repair?
If your existing concrete surface is damaged, don't worry. We are experts in concrete repair. When applying a concrete overlay to interior floors, we identify problem areas and address them before we apply the coating. We can work with your surface, even if it's faded, chipped, or cracked.
Epoxy concrete floors
If you need a floor that looks great and holds up well, consider an epoxy coating. Epoxy floors are durable and resistant to chemical damage, especially in garages and commercial spaces like animal care facilities, salons and more.
Featured projects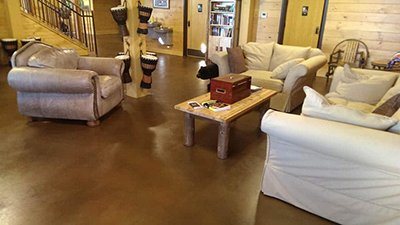 Stained concrete floor at Boulder Crest Retreat in Bluemont, VA.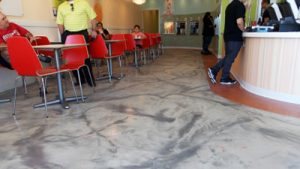 Metallic floor coating at Tutti Frutti yogurt shop in Fairfax, VA.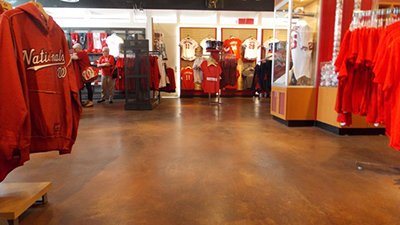 Stained concrete floor at the Washington Nationals' gift shop in DC.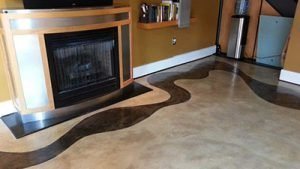 Tuscan overlay at a private residence in Washington, D.C.
Contact Us
We resurface concrete floors in the major metros in the area, including Arlington, Alexandria, Fairfax, and Reston, Virginia; Bethesda, Frederick, Gaithersburg, and Hagerstown, Maryland; Washington D.C.; and beyond.
Contact us today to get started with your project!
Call us at 866-631-8664
Or email us: [email protected]
Request a Free Estimate