Transforming floors in Washington DC, Arlington, Alexandria, Bethesda & the surrounding areas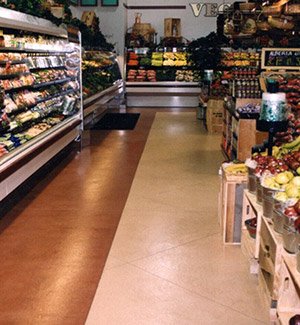 See more floor pictures
If you're a homeowner or business owner in the Washington D.C. metro looking for an indoor flooring solution that's gorgeous, durable, low maintenance, versatile, and allergen free, look no further than decorative concrete floors. (Get more information on resurfacing in a commercial space.)
Benefits of decorative concrete floors for indoor surfaces
Even though concrete floor coatings are often associated with outdoor surfaces, they are becoming more and more popular indoors. When compared to other flooring solutions, concrete floors are superior. For example, decorative concrete surfaces don't have grout lines like tile, which makes the surface easier to clean. Additionally, materials like carpet can be a haven for dust mites, pollen, pet dander, and other allergens—whereas you just don't have those problems with concrete.
When it comes to designing an interior decorative concrete floor, the sky is the limit. There are many colors, textures, and patterns to choose from. We can even mimic the look of brick, wood, limestone, and other materials.
Indoor surfaces that are candidates for decorative concrete coatings
At SUNDEK of Washington, we've done concrete floor refinishing in many indoor spaces. The good news is, just about any surface is a candidate for a decorative coating or stained concrete.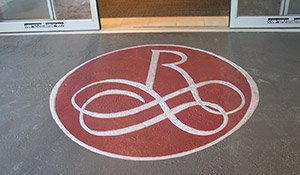 Concrete floor resurfacing is growing in popularity among owners of commercial properties because decorative concrete coatings are durable and can stand the test of time—a necessity for flooring that sees a lot of foot traffic.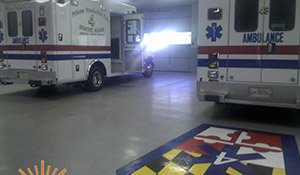 We are familiar with the ins and outs of a variety of industries, having applied decorative concrete coatings to industrial floors in locations ranging from institutional facilities to food processing facilities.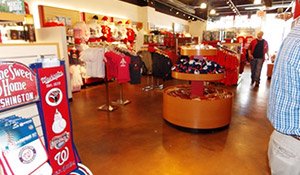 For floors in restaurants and retail stores, we understand that you want something that's both beautiful to look at and strong enough to withstand foot traffic and lots of potential spills.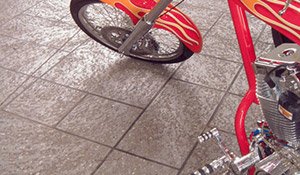 SUNDEK of Washington has been applying epoxy and polyaspartic coatings to garage floors for decades. These long-lasting floors can handle abuse from hot tires, lawnmower blades, shovels, and oil spills.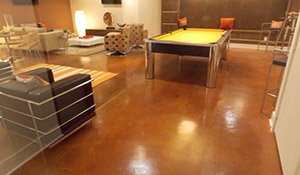 Because it's easy to maintain and there are so many design options available, a decorative concrete floor is the perfect solution for flooring in any area of a home.
What if I need concrete floor repair?
If your existing concrete surface is damaged, don't worry. When resurfacing interior concrete floors, part of our job is to identify problem areas and addressing them before applying the coating. So we can work with your surface, even if it's faded, chipped, or cracked.
Award-winning floors near you
Contact us about your project
If you'd like to talk to us about your project, fill out the form on this page and we'll contact you.
You can also contact us by phone at 866-631-8664
Or by email: info@sundek.com
We work in all the major cities in the area including:
Arlington, Alexandria, Fairfax, and Reston, Virginia
Bethesda, Frederick, and Gaithersburg, Maryland
Washington D.C. and beyond
We look forward to helping you with your next project!