Epoxy Floor Coatings Offer a Durable, Decorative Solution
SUNDEK of Washington has been installing tough, long-lasting epoxy floors at residential and commercial properties in the greater D.C. region for decades.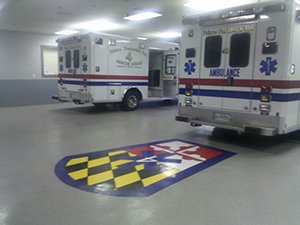 SUNDEK of Washington installed an epoxy floor at a fire and rescue station in Maryland.
Are you looking for a flooring solution that's durable and easy to clean? We can help. We install epoxy floors in facilities ranging from garages to airport hangars.
Contact us for a free quote
Why install an epoxy floor?
Epoxy floors have many qualities that make them an appealing choice for residences and businesses.
Durable. Whether you're a homeowner who needs a spot to park your car and store your tools or you're a mechanic who needs a durable surface to work on that won't crack from heavy machinery, epoxy floors are the most reliable flooring solution. SUNDEK's epoxy coatings can withstand the wear and tear from the weight of heavy machinery and tools.
Easy to clean. Oil spill? No problem. Epoxy surfaces are resistant to spills, making it easy to wipe up messes. Since liquids don't absorb into them, you don't have to worry about damage from unexpected leaks or spills. To keep them clean, we recommend using a mop or washing them off using a hose or pressure washer.
Slip resistant. We incorporate a texture into our epoxies to prevent slip-and-fall accidents. This is especially important in our region of the country where it's common for snow to get tracked indoors in winter and precipitation is common throughout the rainy season.
Customizable. Epoxy flooring can be customized to fit your design needs. Whether you're looking for something simple or want to incorporate a logo into your floor design, we can help come up with a look you love.
See other options for concrete floors.
Where can epoxy coatings be installed?
Because of their chemical resistance and durability, epoxies are great for demanding commercial locations, but are also gaining popularity in residential homes. They can be installed on both new and existing projects with a sound concrete surface.
High performance epoxy floor systems are good for the following:
Basements and laundry rooms
Restaurants and commercial kitchens
Retail stores
Warehouses and industrial facilities
Car showrooms, auto shops and service centers
Recreation centers and other public buildings
Hair and nail salons
Medical facilities
Animal clinics, shelters and kennels
Schools and universities
What products does SUNDEK of Washington use?
We only use tried-and-true SUNDEK products, known for being some of the best in the industry. Here are the coatings we recommend to customers looking for a durable flooring solution:
SunEpoxy 100 is a heavy-duty coating that gives our customers the same protection as SunEpoxy 54, plus more. It's good for surfaces that get a lot of heavy traffic.
SunMetal FX is used with the above epoxy. It provides a smooth, glass-like finish that creates a unique look.
Is epoxy paint as effective as an epoxy coating?
No. The two are quite different. A coating will last longer and provide more durability. For more information read our article about the difference between epoxy paint and epoxy coatings.
What is the difference between epoxy and polyaspartic coatings?
Whether you choose an epoxy or polyaspartic coating for your floor depends on what your floor is used for. You can read more about the difference between epoxy and polyaspartic coatings, and we would also be happy to discuss your project and help determine the appropriate product. Contact us to learn which product is right for you.
Contact us about your project
If you'd like to talk to us about your project, fill out the form on this page and we'll contact you.
You can also contact us by phone at 866-631-8664
Or by email: [email protected]
We work in all the major cities in the area including:
Arlington, Alexandria, Fairfax, and Reston, Virginia
Bethesda, Frederick, and Gaithersburg, Maryland
Washington, D.C. and beyond
We look forward to helping you with your next project!