Epoxy Garage Floor Coatings in the D.C. Area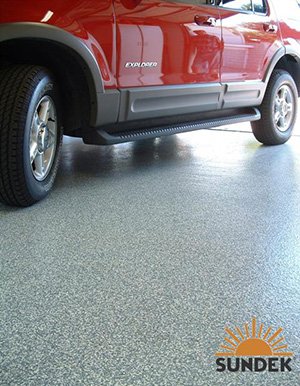 For decades, SUNDEK of Washington has been resurfacing garage floors in the Washington D.C., Maryland, Delaware, and Virginia areas.
When it comes to your garage floor, durability, longevity, safety, and appearance are all important. When you work with us, all those needs are met.
Garage floor epoxy is durable
Through our years of working on garage floors, we've found that epoxy coatings and polyaspartics are the most durable. They can withstand the weight of cars and other heavy equipment. And as long as they have been coated with a high-quality sealer, they can resist stains from oil, grease, chemicals, water, moisture, and more.
Garage floor coatings last a long time
Since epoxy and polyaspartic garage floors are so durable, they hold up longer than other materials.
Free Analysis & Estimate
Resurfaced garage floors are safe
We have the ability to make epoxy and polyaspartic floors in garages slip resistant, so you can worry less about slip-and-fall accidents happening when you're getting in and out of the car or walking around the garage.
Appearance can be customized with color, flakes or quartz
Yes, functionality is the most important thing. But many people also care about the aesthetics of their garage floor. SUNDEK of Washington can give your garage floor basically any design you want. Here are just a few options:
Traditional gray concrete. This is one of the simplest choices, and it's also one of the most popular because it is easy to install and goes with anything. If you are going for a minimalistic look, a traditional gray concrete garage floor is a good way to go.
Colored base or flecks. For a customized appearance, you can add a layer of color flakes to create a colored base for your garage floor. You can even mix multiple colors of acrylic paint chips or flecks to mimic the appearance of premium materials or to create a one-of-a-kind design.
Quartz. If you are looking for maximum impact resistance, decorative quartz garage floors are a great option. To install this type of flooring, your contractor will add the quartz as an aggregate over a solid epoxy coating for enhanced impact resistance over standard color chip flooring.
See how SUNDEK beautifies garage floors in this 1.5 minute video.
What is the difference between epoxy and polyaspartic floors?
What is maintenance like for an epoxy or polyaspartic garage floor?
Since epoxy and polyaspartic floors are non-porous, they won't absorb spills. So, for example, if you spill a little bit of oil you can simply wipe it up. This means you don't have to worry about damage from oil, water, or other liquids.
General maintenance includes sweeping and mopping dirt and debris as needed. Learn how to get tire marks off epoxy or polyaspartic floors.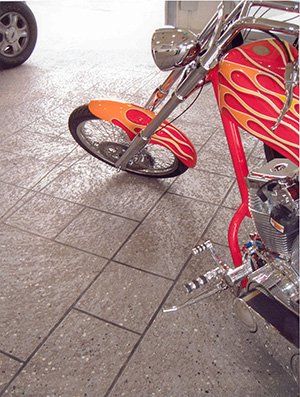 Our epoxy and polysporatic products
Contact us about your garage floor
If you'd like to talk to us about your project, fill out the form on this page and we'll contact you.
You can also contact us by phone at 866-631-8664
Or by email: [email protected]
We work in all the major cities in the area including:
Arlington, Alexandria, Fairfax, and Reston, Virginia
Bethesda, Frederick, Gaithersburg, and Hagerstown, Maryland
Washington D.C. and beyond
We look forward to helping you with your next project!