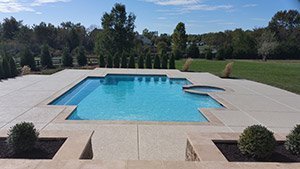 See more pool deck pictures
SUNDEK of Washington has resurfaced pool decks in residential and commercial spaces throughout Washington D.C., Maryland, Delaware, and Virginia areas.
Design options
When it comes to pool deck designs, the sky is the limit. There are a variety of colors, textures, and patterns to choose from.
The most popular request we get for pool deck resurfacing is for the SUNDEK Classic Texture coating. This acrylic cement coating is slip-resistant and is cooler than other concrete coatings, and you can customize its look. We can also achieve the look of natural stone with a stamped concrete coating.
Because our SUNDEK dealers have seen it all, they can help guide you through the design process and choose the best pool deck coating. For example, did you know that staining your pool deck white will mean it's cooler to walk on during summer?
Or call us to discuss pool deck ideas: 866-631-8664.
Frequently asked questions
Is sealer really necessary?
Yes. Especially in this region of the country where the elements can really do a number on your outdoor surfaces, it's important to get your pool resealed with a high-quality sealer every two to three years. If you follow this schedule, your pool deck will remain vibrant and looking great for a longer period of time.
Can you do a cool deck coating?
A SUNDEK surface is much cooler than typical gray concrete, exposed aggregate, pavers, tile and even epoxy rock applications.
Can you apply a decorative concrete coating to a damaged surface?
We specialize in pool deck repair. So even if you have cracks, chips, or flakes in your concrete surface, we can still apply a decorative concrete coating after repairing the damaged spots.
What if I have a surface that's already been coated but it's starting to fade?
If you have a decorative concrete coating that has faded, we can refinish it. Our trained crew can retouch any color or pattern then reseal the entire surface. We can even recolor and reseal a Kool Deck surface.
Maintenance
Sealing your pool deck and resealing it every 2 to 3 years is a critical component of proper maintenance (we can advise you on exactly how often to reseal). Sealing your surface prevents moisture from seeping into the pores of your concrete. During winter, if you have moisture in your concrete, the water will freeze and expand. This causes cracks, spalling, pitting, and other damage.
Another way to prevent moisture from seeping into the pores of your concrete is by keeping an eye out for any cracks and resolving them as soon as they appear.
General maintenance of your pool deck includes sweeping or blowing off debris every few weeks. For dirt and other debris that can't be removed by a broom or leaf blower, use a hose with a high-pressure nozzle or a pressure washer. SUNDEK has non-abrasive cleaners for those hard-to-clean spots. Learn more about maintenance here.
Why hire SUNDEK of Washington to work on your pool deck?
We know the region. In this area of the country where weather takes a toll on our outdoor spaces during winter, it's important that the surface of your pool deck is one that can withstand the elements. SUNDEK of Washington has done pool deck resurfacing in the D.C. metro and surrounding areas for decades. We will fill you in on how often you'll need to reseal your pool deck to protect it from the elements.
We work with what you have. If your existing surface is faded, chipped, or cracked, you don't have to demo it. If necessary, we'll fix any existing damage and apply the coating right on top of it.
We do it all. Since we work with all concrete surfaces, we can coordinate your walkways, patio, retaining walls, and more with the design of the deck around your pool—giving you a cohesive look.
We are experienced professionals. We train our installers on how to apply SUNDEK products. So when you work with us, you get the best possible product combined with the best possible installer. Even if you are incredibly handy, making repairs and applying coatings to a swimming pool deck is a tricky job—especially when it comes to addressing and preventing cracks.
Your safety is one of our top priorities. Especially around your concrete pool deck, safety is critical. We have the ability to make any surface slip resistant to ensure that the area surrounding your pool isn't a slip hazard.
Contact us about your project
If you'd like to talk to us about your project, fill out the form on this page and we'll contact you.
You can also contact us by phone at 866-631-8664
Or by email: info@sundek.com
We work in all the major cities in the area including:
Arlington, Alexandria, Fairfax, and Reston, Virginia
Bethesda, Frederick, and Gaithersburg, Maryland
Washington D.C. and beyond
We look forward to helping you with your next project!