Concrete Resurfacing Cost in Washington D.C. & Beyond
How much does a concrete overlay cost?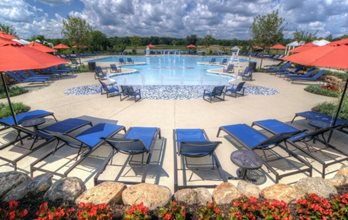 SUNDEK of Washington installed a decorative overlay on this pool deck at an apartment complex in Aldie, VA.
Understandably, the burning question for many of our clients is how much it costs to resurface concrete. Since the answer is not the same across the board, we hope the information here clarifies the factors that will affect the cost of your decorative concrete resurfacing job.
Factors that affect resurfacing costs
Here are variables that influence the cost of your resurfacing job.
Condition of your existing surface.
Size of your surface (in square feet).
Design requests.
Product choice.
Free Estimate
Why does the condition of an existing surface affect the cost?
We are experts in concrete repair, so it's not a problem if you have some damage to your concrete slab that needs to be resolved before we can apply a coating. However, the extent of the damage can influence the total cost of your project. For example, if your surface is uneven, we will need to apply more product in spots that are lower so that we can even things out. Or, if you have significant cracks, we'll need to repair those before we can apply our coating.
We never apply coatings to surfaces that aren't structurally sound. For every project we complete, we take all steps necessary to fully prepare the surface for the coating.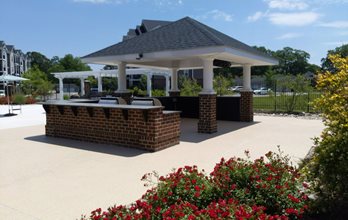 An outdoor entertaining space in Suffolk, VA, installed by SUNDEK of Washington.
Why does the design I choose affect the cost?
Here are some reasons why the design affects the cost of a project:
Products. The design is part of what determines which products we use, and our products vary in price per square foot.
Colors. A design with multiple colors will be more expensive than a monochromatic surface.
Pattern. An intricate pattern with many details will take more time to install than a basic pattern. For example, imprinting a multi-colored company logo will take more time than creating a checkerboard pattern; while a checkerboard pattern will take more time than a seamless stamped concrete design.
How to get a cost estimate on your project
The best way to get an accurate estimate on your specific project is to contact a contractor directly so they can visit your site to do an analysis. At SUNDEK of Washington, we'll come to your site to do a thorough analysis then provide you with a quote—all for free. Contact us to get started!
Tearing out concrete versus resurfacing
As long as you have a viable surface (one that's not severely damaged beyond repair), it is more cost effective to resurface your concrete than to tear it out. A concrete demolition job requires breaking the concrete and then pulling it apart and removing it. On top of all that, you need to remove it from the site entirely and dispose of it properly before pouring new concrete. This is a costly endeavor.
Resurfacing, on the other hand, allows you to apply a concrete coating directly on top of your existing concrete floor, concrete driveway, patio or other surface. You don't need to tear anything out.
Here are some of the benefits of resurfacing rather than demolishing:
It's less messy
It's less costly
It's more eco-friendly
You get the look you want
You don't have to start from scratch
Contact us about pricing
We resurface concrete in the major metros in the area, including Arlington, Alexandria, Fairfax, and Reston, Virginia; Bethesda, Frederick, Gaithersburg, and Hagerstown, Maryland; Washington D.C.; and beyond. Contact us today to get started with your project!
Call us at 866-631-8664
Email us at [email protected]
Or fill out the form on this page