SUNDEK of Washington does patio resurfacing in residential and
commercial
spaces throughout the Washington D.C., Maryland, Delaware, and Virginia areas.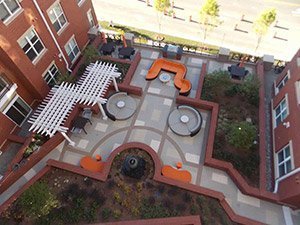 See more patio pictures
Whether you want to fix your cracked concrete patio or refinish your concrete patio to give it a fresh look, SUNDEK of Washington can help. We specialize in concrete patio repair and concrete patio coatings.
If your patio needs repair, contact us to do an assessment of your existing surface. We will analyze the area to determine why the damage occurred and how to fix it.
We've been resurfacing concrete for decades in this area, including projects in D.C., Arlington, Bethesda and beyond. We're familiar with how concrete is affected by our weather and can advise you on how to prevent future damage.
After evaluating your patio, we can apply a new coating customized to your design preferences. Here are some of the types of damage we deal with regularly.
Cracked, chipped, or spalled concrete. With the types of winters we experience in this area, it is especially important to resolve cracked, chipped, or spalled concrete. Even the smallest openings can leave your concrete vulnerable, making it easy for water to seep into it. When temperatures are freezing, the water will expand then later contract—causing even more damage. At SUNDEK of Washington, we are experienced at properly repairing this type of damage. If possible, we can even find creative ways to work the cracks into your patio's design using custom scorelines.
Uneven spots. Uneven spots on a concrete patio can create a tripping hazard or spots for water to puddle. While applying your new concrete coating, we can easily resolve uneven spots in your patio, making it a safer surface to walk on.
If your patio just needs a design update, there are lots of ways you can customize your concrete coatings so you get the patio you love.
Colors. SUNDEK has a wide variety of colors to choose from. If you don't see one you like, let us know—we can work on creating a custom color.
Textures. Aside from creating a beautiful aesthetic, giving your concrete patio surface an interesting texture also serves a practical purpose: it can help make it slip resistant.
Patterns. When it comes to choosing patterns, the sky is the limit. We can stamp your concrete patio or give it custom scorelines so you can get a look you love.
Masonry effects. If you like the way brick looks but want the durability of concrete, SUNDEK of Washington can help. We can create the look of brick, limestone, wood, and more.
If you need more concrete patio resurfacing ideas, contact us.
Maintenance
Caring for a SUNDEK concrete coating is straightforward and simple, but it's also critical. The better care you take of your patio, the longer your surface will stay looking great. Here's the basic information about caring for your surface:
Keep it clean. Don't let dirt and debris build up. Sweep and hose your patio regularly. If you see spots with excess dirt and grime, use a pressure washer or high-pressure hose nozzle to take care of it.
Keep it sealed. A high-quality sealer will work wonders for your patio. It's important to keep in mind that you need to have a sealer reapplied every few years. Contact us to discuss exactly how often, as that will depend on variables such as whether it has snow sitting on it all winter or sun beating down on it all summer, if it experiences a lot of foot traffic, and more. Learn more about our concrete sealing services.
Contact Us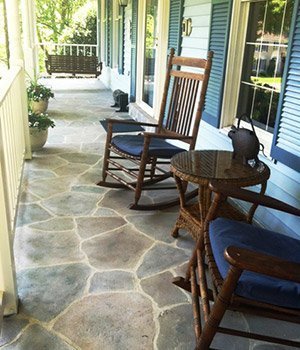 We resurface concrete patios in the major metros in the area, including Arlington, Alexandria, Fairfax, and Reston, Virginia; Bethesda, Frederick, Gaithersburg, Maryland; Washington D.C.; and beyond. Contact us today to get started with your project!
Fill out the form on this page and we'll contact you.
Call us at 866-631-8664
Or email us: info@sundek.com