Waterparks & Splash Pads – Concrete Coatings
Installing beautiful and safe surfaces in D.C., Arlington, Bethesda, and beyond
Whether you're planning to install a splash pad or pool deck or you want to refinish any other area of your waterpark, it's critical to work with an experienced professional. At SUNDEK of Washington, we've been working in this area of the country for decades, successfully installing safe and beautiful surfaces where water play happens. (See other commercial spaces we resurface.)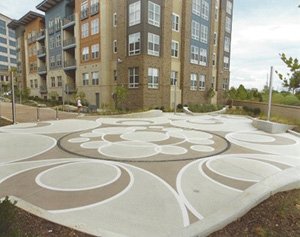 See more waterparks and splash pad pictures
Why work with SUNDEK of Washington?
We prioritize safety. By adding texture, we can make your pool deck, pathways, splash pads, and other spaces slip resistant.
We care about the aesthetics. When it comes to designing your surfaces, the sky is the limit. There are a variety of patterns, colors, and textures to choose from to make your space unique and photograph worthy.
We create durable surfaces. We install industrial floors, so we're well versed in creating a surface that can withstand a lot of abuse—whether it's from foot traffic, trolleys, golf carts, or other heavy objects. We will also educate your staff on how to care for the surface during harsh winter weather so it stays looking great.
We create surfaces that are easy to clean. Maintenance staff is often pleasantly surprised when they discover how straightforward and simple it is to clean a SUNDEK surface. To top it off, since we coat the surface with a high-quality sealer, it's resistant to stains.
We work efficiently. We understand that you can't afford to close large areas of your business for long periods of time. That's why we make it our mission to get our job done quickly while still giving you the superb surface you want.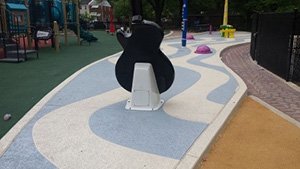 A splash pad with Sundek coating at the Marvin Gaye Recreation Center in DC.
Local project: Splash Pad at Apartments in Rockville, MD
Contact us about your project
If you'd like to talk to us about your project, fill out the form on this page and we'll contact you.
You can also contact us by phone at 866-631-8664
Or by email: [email protected]
We work in all the major cities in the area including:
Arlington, Alexandria, Fairfax, and Reston, Virginia
Bethesda, Frederick, and Gaithersburg, Maryland
Washington, D.C. and beyond
We look forward to helping you with your next project!