Splash Pad at Rockville Apartments is Beautiful & Safe
When the Alexandria, Virginia–based design firm ParkerRodriguez set out to install a splash pad at Gables Upper Rock Apartments in Rockville, Maryland, they sought help from SUNDEK of Washington. SUNDEK has installed many commercial splash pads in locations ranging from small community parks to large waterparks.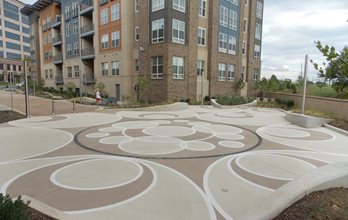 SUNDEK of Washington installed this 2,530-square-foot tri-color splash pad at Gables Upper Rock Apartments in Rockville, Maryland.
When they reached out to SUNDEK of Washington, ParkerRodriguez had already created a beautiful design for the splash pad and wanted SUNDEK to execute it. Initially, the design firm inquired about applying an epoxy overlay, as they wanted a durable surface that would last a long time without touch ups. While epoxy is a wonderful solution for garage floors and other frequently used spots, it's not the ideal coating for a surface that gets wet and is intended for water play. Instead, SUNDEK of Washington suggested SUNDEK's SunSplash overlay.
Free Analysis & Estimate
SunSplash is not only durable enough for high-traffic areas, it also provides protection against UV rays, salts, and environmental pollutants. To apply it, SUNDEK technicians spray it on to create a textured finish that's described as an "orange peel" effect. This texture makes the surface non-slip, reducing the risk of accidents. In fact, many local municipalities and health departments around the country have approved SUNDEK's systems for their swimming pools, spray parks, water parks, and playgrounds.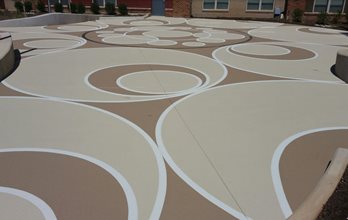 To lay out the design provided by ParkerRodriguez, SUNDEK of Washington installers fashioned a "protractor" on site using 2 by 4s, string, and nails.
Once everyone involved agreed upon the design and materials, SUNDEK of Washington prepared the new concrete surface then applied the SunSplash coating. After it cured, they added the water-based acrylic finish coat in the design and colors specified by ParkerRodriguez. In addition to adding color, the finish coat creates a non-porous layer that protects the surface. Since there wasn't a scale drawing to work from, the SUNDEK of Washington installers sketched out the entire layout directly onto the surface based on the drawings provided. To create circles and arcs, they used a "protractor" they constructed on site—2 by 4s, string, and nails.
In a display of artistry, ingenuity, and collaboration, SUNDEK of Washington and ParkerRodriguez were able to provide the residents at this apartment complex a safe place to cool down and have fun.
Project specifications
Location:
Gables Upper Rock Apartment
Rockville, Maryland
Size: 2,530 square feet
Project length: 6 days
Design: ParkerRodriguez, Alexandria, Virginia
Interested in getting a free estimate for your residential or commercial project? Contact us!