Pool Deck Resurfaced at Apartment Complex in Arlington, VA
Over 40,000 square feet of shared outdoor space gets a makeover with concrete coatings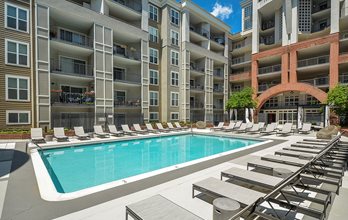 The completed pool deck coating at The Citizen at Shirlington in Arlington, Virginia. SUNDEK resurfaced the pool deck with SunSplash, creating a comfortable surface around the pool. Photo courtesy of The Citizen at Shirlington.
The new owners of a multi-family living complex in Arlington, Virginia, had a big goal upon purchasing the property that is now known as The Citizen at Shirlington: turn an eyesore into eye-candy. One of the many things they needed to accomplish this goal was to refresh the concrete in the outdoor areas, including the pool deck.
Initially, the owners were going to work with a contractor who planned to stain the existing concrete. Knowing this wouldn't be an appropriate solution considering the condition of the concrete surfaces, SUNDEK of Washington asked to meet with the owners to propose an alternate option.
Free Analysis & Estimate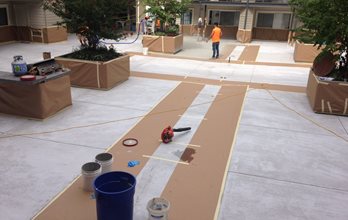 SUNDEK of Washington contractors install the new SunSplash coating on the surface of the experience area.
SUNDEK of Washington proposed to use SunCoat on the outdoor experience area and SunSplash with custom scorelines for the pool deck area. In addition to giving the outdoor surfaces a more vibrant look, these coatings would eliminate the appearance of telegraphing. (Telegraphing occurs when the substrate is uneven and creates unintentional swirls or patterns in the surface.) This would be more effective than stain, which only adds color and would not resolve the surface issues as the coatings would.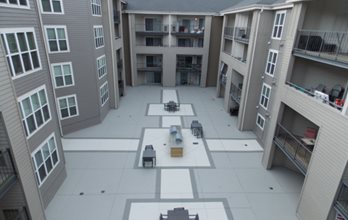 A courtyard area at The Citizen at Shirlington.
For the pool area, the SunSplash coating would create a safe surface for residents and their guests. To apply it, SUNDEK contractors spray it on and do not use a trowel to smooth it out. It leaves a texture described as an "orange peel" effect. When it dries, it's scraped to remove any burrs, thus creating a comfortable surface, with good slip resistance. This type of surface is also cooler to the touch than typical gray concrete, making it a perfect place to hang out on hot days.
The owners of the property liked SUNDEK's proposal and hired them for the resurfacing project. The team decided on three colors to use throughout the property: Oyster White, Tweet Gray, and Smoke Gray. When the project was complete, the owners were happy with the look of the new decorative concrete—a beautiful spot for residents to hang out and relax.
Project specifications
Location:
The Citizen at Shirlington
3000 Randolph South Street
Arlington, Virginia, 22206
Size: 34,800 square-foot experience area; 3,800 pool area
Project length: About 5 weeks
Interested in getting a free estimate for your residential or commercial project? Contact us!
See another pool deck coating at apartments in Laurel, MD.