Colorful Pool Deck Coating for Apartments in Laurel, MD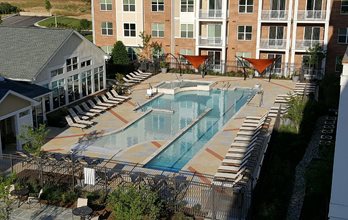 The pool area at Duvall Westside Apartments in Laurel, Maryland, surfaced by SUNDEK of Washington using Classic Texture. You can see the attractive pool deck from multiple locations on the property including from the windows of many residents.
Duvall Westside, an upscale apartment community in Laurel, Maryland, wanted more than just a plain gray concrete for their new pool area. They wanted something colorful and eye-catching that would provide a beautiful space for residents to hang out. The pool deck surface would also need to withstand the test of time and lots of foot traffic. With this in mind, the general contractor for the project, ParkerRodriguez, contacted SUNDEK of Washington.
SUNDEK's high-quality coating systems are durable and comfortable to walk on—two must-have features for frequently used pool decks. Additionally, SUNDEK contractors can customize their overlays in patterns, textures, and colors of the client's choice.
FREE ANALYSIS & ESTIMATE
Pool deck coating installation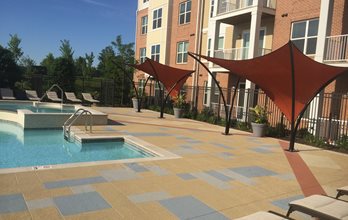 The pool area's geometric design features five colors, including Terra Cotta that's used for the deck's banding.
SUNDEK of Washington coated the pool deck using Classic Texture, which is SUNDEK's most popular product for pool areas. Since it's sprayed onto the surface, this coating creates a texture that makes the surface anti slip. Another perk is that even on hot days, the surface isn't uncomfortable to walk on, as it stays cooler that typical gray concrete.
After the coating dried, SUNDEK contractors applied an acrylic top coat that protects against wear and tear and keeps dirt, oils, and chemicals from staining the coating. This makes the surface easy to clean—a major plus for apartment maintenance crews.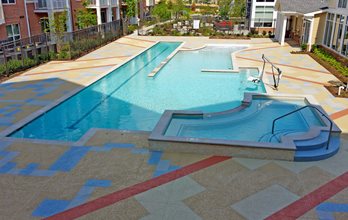 In addition to being customizable—here with custom colors and patterns—the Classic Texture coating is easy to clean, making it a favorite among maintenance crews.
Pool deck design and colors
Using the provided plans, SUNDEK of Washington contractors hand-taped the pattern and carved the geometric design. Since the apartment complex wanted the concrete coating to be colorful, SUNDEK of Washington used five colors from their signature collection. Bands of Terra Cotta emanate from the pool diagonally out to the end of the concrete. Tweed Gray, Indian Wheat, Peking Blue, and Franciscan Tan were used for the rest of the design.
The owners and residents at Duvall Westside were pleased with the result: a non-slip pool deck that's comfortable for the feet and easy on the eyes.
Project specifications
Location: Duvall Westside
14100 West Side Blvd
Laurel, MD 20707
Size: 4,995 square feet
Project length: About 4 weeks
Interested in getting a free estimate for your residential or commercial project? Contact us!
See another apartment pool deck in Arlington, VA.