Stamped concrete overlays offer the look and feel of imprinted concrete finishes without having to tear out your existing deck or driveway.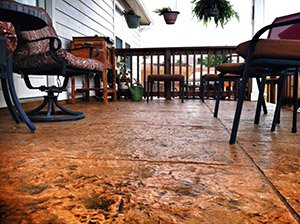 How stamped concrete overlays work
Watch this video for a better understanding of how SUNDEK of Washington applies stamped concrete overlays.
In this process, we pour a thin overlay over your existing concrete surface. We then use a pattern form to stamp your chosen pattern into the overlay. When the overlay dries, it is fully bonded to the concrete beneath.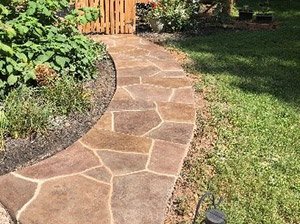 Design options
Homeowners and business owners are often pleasantly surprised at the variety of options available when it comes to designing with a stamped concrete overlay. In addition to being able to apply a variety of patterns, textures, and customized designs to your surface, we can also mimic the look of many different materials such as fractured slate, cobblestone, English yorkstone, river stone, ashlar stone, wood, brick, limestone and more. You can also have a customized stamping mat created to get a one-of-a-kind look.
There are other ways to get creative with your stamped concrete overlay: use more than one color, add aggregates, and incorporate additional scorelines. The sky is the limit when it comes to designing your surface!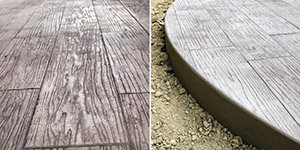 Safety benefits
When natural stone and pavers get wet, they get slippery. In this region of the country, that's a problem during our rainy and snowy months. A stamped concrete coating can be applied with a textures or additives that make it slip resistant, making slips and falls less likely. This gives you the ability to get the look you love without the hazard.
Stamped overlays on damaged surfaces
Even if your existing surface is damaged, it's still a candidate for a stamped concrete overlay. At SUNDEK of Washington, we specialize in concrete surfaces, so we can address any damage to your existing surface, resolve it, then apply the stamped concrete overlay. We are also skilled at identifying the cause of the damage, which means we can help you prevent further damage from happening in the future.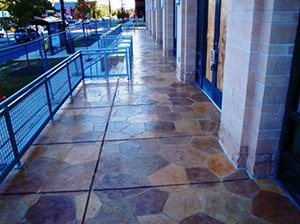 If you already have a stamped concrete surface that needs repair, we can use our product SunRestore, specifically designed for stamped concrete repair. So instead of having to rip out your entire surface—which is a huge financial investment, makes a big mess, and takes a lot of time—you'll be able to transform your surface with our rehabilitation system.
Maintaining your stamped concrete surface
The most important step to making sure your stamped concrete stays looking great is to have a high-quality protective sealer applied. A sealer is important anywhere, but especially in this area of the country where we get lots of snow in winter. We can help you determine a schedule for reapplying your sealer.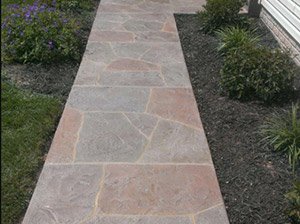 For general maintenance, it's important to sweep and mop once a week or so to prevent stains. For hard to clean spots, you can use non-abrasive commercial cleaners. If you see cracks or other imperfections, have them fixed right away so that they don't turn into larger issues.
Important: Do not use deicing products on your surface, even if the manufacturer claims it's safe for decorative concrete. When you have your stamped concrete coating installed, we'll make it slip resistant.
Contact us about your stamped concrete project
If you'd like to talk to us about your project, fill out the form on this page and we'll contact you.
You can also contact us by phone at 866-631-8664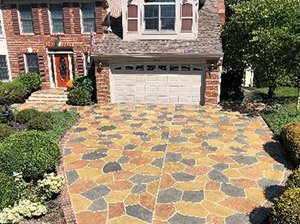 Or by email: info@sundek.com
We work in all the major cities in the area including:
Arlington, Alexandria, Fairfax, and Reston, Virginia
Bethesda, Frederick, and Gaithersburg, Maryland
Washington D.C. and beyond
We look forward to helping you with your next project!