Cool Deck Coatings for Pools
If you have a pool at your home or commercial property, you know that a great pool deck that's cool enough to walk and lounge on, even during hot summer days, is crucial. At SUNDEK of Washington, we have been installing cool pool decks in the area for decades.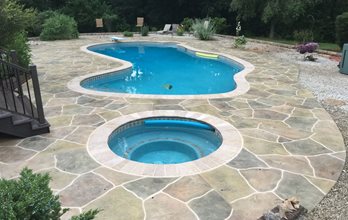 This pool deck in Worton, MD, was resurfaced by SUNDEK of Washington.
What is the best material for a cool pool deck?
Textured acrylic coatings are one of the best options for getting a cool pool deck. The combination of acrylic and concrete absorbs less heat than other materials such as brick or pavers. A textured surface means that feet are exposed to less surface area at once, enhancing the cooling effect. Bonus: a textured surface is also less slick, making it less prone to cause slip-and-fall accidents.
Get a free estimate
What else helps a pool deck stay cool?
Aside from the material your pool deck is made of, there are other ways to keep your pool deck cooler.
Color of the material. A dark-colored material will absorb more heat than a light color. We recommend that our customers choose neutral colors or other lighter shades to reduce the amount of heat that gets trapped in the surface. SUNDEK has many colors available for pool deck coatings.
Location of the pool deck. This factor is harder to control because typically homeowners and commercial property owners have limited locations for their pools. If you have your pool in a spot where the sun will beat down on it, the deck will obviously get cooler. Another consideration to make is that you may want it in a spot where the sun will hit it so that people stay warmer when swimming on mild days. Finding the right balance is a good topic of conversation to have with your contractor.
How to make an existing pool deck cooler
If you already have a pool deck that gets way too hot during sweltering summer days, you can always have it resurfaced. Resurfacing is a great option because you don't have to tear out your deck. Instead, you can have a decorative concrete coating applied right on top of your existing pool deck. Resurfacing saves you time, money, and a lot of headache.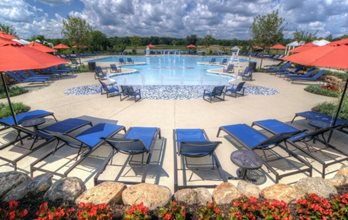 SUNDEK of Washington resurfaced this pool deck at an apartment complex in Aldie, VA.
How much does it cost to resurface a pool deck?
The cost of your resurfacing project depends on a variety of factors: the size of your pool deck, the condition of your existing surface, the design you choose, and more. The best way to get an accurate estimate is to call us for a free quote.
What materials does SUNDEK of Washington use for pool decks?
At SUNDEK of Washington, we only used SUNDEK products, renowned as some of the best in the industry.
For resurfacing pool decks, we have several products to choose from. The product you choose for your pool depends on the desired effect, but one of our most popular products is Classic Texture. It's a spray-on coating that is textured and comes in a variety of colors. Here are several others we use:
You can also combine products for desired effects. The best way to decide on a product is to talk to us about your specific project.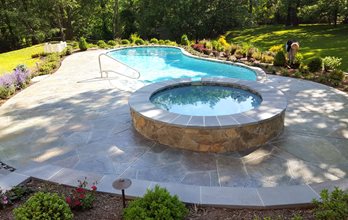 This residential pool in Middleburg, VA, was resurfaced by SUNDEK of Washington.
Contact us about your project
If you'd like to talk to us about your project, fill out the form on this page and we'll contact you.
You can also contact us by phone at 866-631-8664
Or by email: [email protected]
We work in all the major cities in the area including:
Arlington, Alexandria, Fairfax, and Reston, Virginia
Bethesda, Frederick, and Gaithersburg, Maryland
Washington D.C. and beyond