Restaurant & Retail Flooring Solutions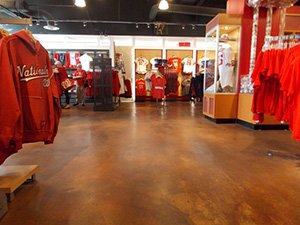 See more restaurant & retail flooring pictures
The floors in restaurants and retail stores need to be able to withstand everything from foot traffic to major spills. SUNDEK of Washington has been resurfacing floors for restaurant and retail store owners for decades, making them safe, resilient, and beautiful.
Safe
With so many customers and employees walking the floor of your restaurant or retail space, safety is a top priority. In this area of the country, customers will often be tracking in snow and rain. And in restaurants, spills are a common occurrence, both in the kitchen and the main floor. Using SUNDEK products, we can give you a surface that has a brilliant shine but isn't slippery so you don't have to worry about accidents.
Resilient
Our high-quality sealers make your floor non-porous, making them resistant to stains and water damage. That means your floor will maintain its beauty for years to come.
Beautiful
Function is important to us, but so are aesthetics. We understand that the look of your floor can contribute to the overall aesthetic of your restaurant or retail space. We have a variety of patterns and colors to choose from, and if you don't see one that fits your needs, we can create a custom pattern or color for you. We even do logos. With SUNDEK products, we also have the ability to create the look of wood, brick, cobblestone, or whatever material works with the look of your store.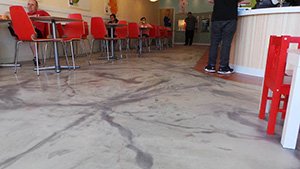 The SunMetal flooring system at the Tutti Frutti yogurt shop in Fairfax, VA.
How long does it take to resurface concrete?
Getting the job done quickly is important to us because we know that you need your space open for customers. The length of time it will take to complete your project depends on how large the space is, the condition of your current floor, and what type of design you want.
What is maintenance like?
Our high-quality sealer makes decorative concrete surfaces easy to clean, non-porous, and stain resistant. You will need to reapply a sealer every few years (contact us so we can determine how often this will be necessary based on the space you have).
Day-to-day maintenance includes sweeping and mopping as needed. You can purchase a commercial cleaner that's non-abrasive, or you can purchase a SUNDEK cleaner. Learn more about maintenance here.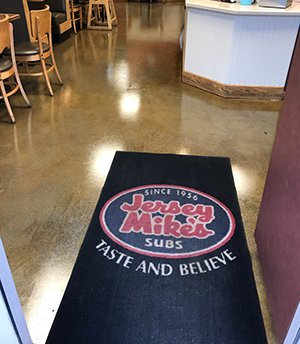 The concrete floor at Jersey Mike's Subs in Charles Town, VA was ground and coated with an epoxy.
Contact us about your project
If you'd like to talk to us about your project, fill out the form on this page and we'll contact you.
You can also contact us by phone at 866-631-8664
Or by email: [email protected]
We work in all the major cities in the area including:
Arlington, Alexandria, Fairfax, and Reston, Virginia
Bethesda, Frederick, Gaithersburg, and Hagerstown, Maryland
Washington D.C. and beyond
We look forward to helping you with your next project!