Industrial Floor Coatings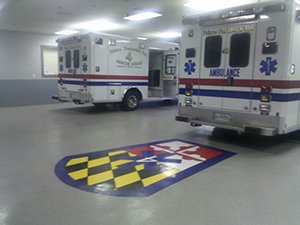 See more pictures of industrial floor coatings
SUNDEK of Washington works with a variety of industrial customers including (but not limited to):
Assembly Plants
Aviation
Distribution Warehouses
Food Processing
Institutional
Laboratories
Manufacturing Facilities
Pharmaceutical
...and more!
If you're interested in installing industrial concrete flooring at your commercial property, we'd love to help! Call us for a free quote.
Are you a homeowner looking for a concrete floor with an industrial look for your residential space? Check out our information on residential spaces!
Why are industrial-grade coatings so popular?
Industrial floor coverings provide a very durable surface for locations that need it the most. Here are some of their qualities:
Safe. For commercial property owners, the safety of their employees and/or guests is of upmost importance. At SUNDEK of Washington, we make it a priority to install surfaces that are resistant to slip-and-fall incidents to keep everyone safe and put your mind at ease. We do this by using high-quality products and installing them with a texture that makes an anti-slip surface.
Many design options. When it comes to designing your industrial floor, the options range everywhere from monotone to multicolored and artistic. Our metallic floors are practically works of art, creating a focal point in any setting. We can even create custom designs including company logos and other patterns. One of our favorite parts about working with our clients is hearing their design ideas. We love making them happen! We're also happy to help if you need industrial flooring ideas
Durable. A long-lasting surface is key when it comes to choosing materials for industrial floors. They need to be able to withstand everything from oil spills to the weight of heavy machinery. That's why we've installed them for customers in spaces ranging from laboratories to airport hangars.
Easy to clean.Industrial-grade coatings don't soak up oil, water, or anything else that spills on them—so as long as they're cleaned up in a reasonable amount of time, spills are easy to clean up. To maintain the surface, sweep up dirt and debris as needed to keep it clean. For spots that are harder to clean, you can use a mop, hose with a powerful nozzle, or a pressure washer.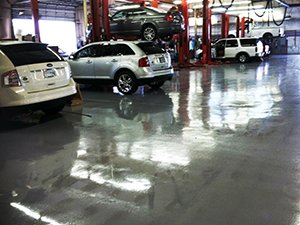 SUNDEK of Washington's solutions for industrial floors
Epoxy and polyaspartic are two of the best commercial-grade solutions for industrial floors. Talk to us about which would be the right fit for your industrial space. (Or read about choosing between the two.)
Our products:
How long does it take to install an industrial floor covering?
The length of time it will take to complete your project depends on the size of your space, the condition of your existing surface, and the type of design you want to do. We have completed small, simple jobs in as little as one day, but time requirements grow as project complexities increase. One thing we can promise is that we always work our hardest to get your job done within your timeline.
How much does it cost to install an industrial floor covering?
Much like the length of time it will take to complete your project, the cost of your project depends on a variety of factors including the size, condition of your existing surface, and design requirements. You can read more about our cost here.
Floor coatings versus concrete paint
We're often asked: What's the difference between epoxy coatings and concrete paint? You've probably seen the paint at the hardware store. It's important to keep in mind that the two are very different. A coating has two component materials, a polyamine hardener and epoxy resin, while the paint is typically a latex acrylic that contains epoxy. In a nutshell, a coating provides more protection than paint. You can learn more about the differences between the two here.
Contact us about your project
If you'd like to talk to us about your project, fill out the form on this page and we'll contact you.
You can also contact us by phone at 866-631-8664
Or by email: [email protected]
We work in all the major cities in the area including:
Arlington, Alexandria, Fairfax, and Reston, Virginia
Bethesda, Frederick, Gaithersburg, Hagerstown, Maryland
Washington D.C. and beyond
We look forward to helping you with your next project!