Residential Concrete Floors
Installing concrete coatings for homes in Washington D.C., Arlington, Bethesda and more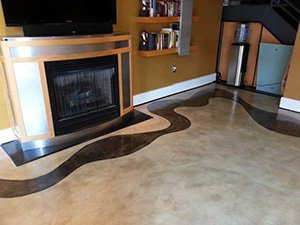 A hand troweled and stained overlay brings a modern artsy feel to this Washington D.C. living room floor.
SUNDEK of Washington has been installing decorative concrete floors in homes for decades. Whether you are in the middle of a renovation or are building a custom home, we can help you create the floor of your dreams.
Decorative concrete floors: The perfect solution for any room
Easy to clean. We apply a high-quality sealer that protects your decorative concrete coating from stains and water damage. Since the coating is one continuous surface, you won't have difficult grout lines or nooks and crannies to clean. Generally, maintenance entails sweeping and mopping when necessary.
Hypoallergenic. Unlike carpet, bare concrete floors don't collect dust bunnies or other allergens. Read more about how concrete floors reduce allergy symptoms here.
Many design options. With SUNDEK's decorative concrete coating products, you can choose from a wide variety of patterns and colors. We also make custom colors and patterns.
Durable. Since decorative concrete floors are non-porous, you don't have to worry about warping from leaks or spills. That quality is invaluable in this area of the country where tracking in snow and water is unavoidable. As long as you care for your floor properly, you also don't have to worry about unsightly stains.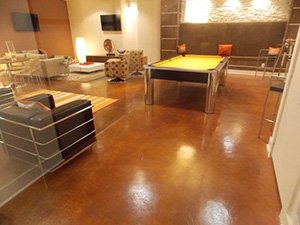 Which rooms are good candidates for a decorative concrete coating?
Any room! Concrete floors are great anywhere, from bathrooms to kitchens. Here are some of the rooms we commonly resurface:
Living rooms & great rooms
Basements & game rooms
Kitchens
Bathrooms & laundry rooms
What if my existing surface is damaged?
We are experts in concrete repair and can address cracks, chips, and spalling before we apply the new decorative coating. We can also patch holes left behind from carpet tack strips or remove any glue or residue left by old vinyl flooring.
Contact us about your home project
If you'd like to talk to us about your project, fill out the form on this page and we'll contact you.
You can also contact us by phone at 866-631-8664
Or by email: [email protected]
We work in all the major cities in the area including:
Arlington, Alexandria, Fairfax, and Reston, Virginia
Bethesda, Frederick, Gaithersburg, and Hagerstown, Maryland
Washington D.C. and beyond
We look forward to helping you with your next project!