Concrete Staining in the D.C. Area & Beyond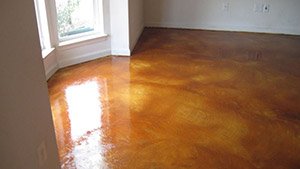 See more concrete staining pictures
Stained concrete is so popular for concrete surfaces because there are many concrete stain colors to choose from—and a variety of ways to apply the colors, creating many different effects. You can even choose to create a customized pattern, design, or logo for your stained concrete floor.
What is concrete staining?
When concrete is stained, the color permeates the surface, giving it a luminous tone rather than the opaque look you get with paint. So what does stained concrete look like? It depends on the colors you use and the and application techniques you use. With SUNDEK products, we have stains in variegated earth tones and we also have stains in vivid colors. You can get a variety of looks ranging from subtle to showy.
Get a free quote
How long will stained concrete last?
Another question we hear often is "Will stained concrete fade?" The answer to both of these questions is that your stained concrete floor will maintain its look for decades as long as you have it sealed with a high-quality sealer and care for it properly. How often you have it resealed depends on how its used. If the floor is in a high-traffic area, you'll need to have it resealed every few years. The contractor who installs your stained concrete floor can give you a better idea of how often you need to have it resealed.
General maintenance requires sweeping the floor as often as needed to keep it free of dust and dirt. You'll also need to mop as often as needed to remove grime and prevent it from getting stuck on the floor. Even though stained concrete floors are resistant to staining, you should also clean up spills as soon as you notice them.
Staining options
At SUNDEK, we have three different products we use for staining. The product that's right for your project depends on what look you're going for. This 2-minute video gives insight into the three SUNDEK stains and what they offer.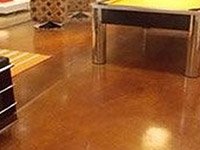 SunAcid is an acid-based stain that etches the surface where it reacts to chemical compounds, creating a translucent marbled effect. When using SunAcid, you have a variety of earth-toned colors to choose from.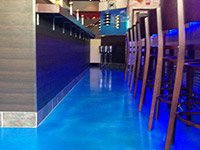 SunH20 is a water-based stain that doesn't etch the surface but lasts a long time because of its adhesive properties. Colors can be layered and combined. Whereas colors with SunAcid are earth tones, colors with SunH20 are more vibrant. Water-based stains are a better option for people who have allergies or other sensitivities that can be triggered by the compounds in acid-based stains. With SunH20, you get a look that ranges from opaque to translucent.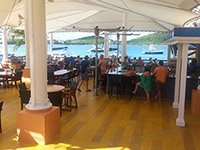 SunDye is a liquid that is soluble in water or acetone. When used in combination with water, you'll get color variation. When used in combination with acetone, you get a darker, monotone look. It can be used on its own or with SunAcid to get a specific color.
Contact us and we can help you decide which product is right for your project.
Can you stain damaged floors?
Customers often ask if their damaged concrete floors can be stained. We're happy to report that as long as your surface is viable, the answer is yes. We are skilled in concrete repair and can fix cracks, chips, or other damage in concrete surfaces. By analyzing the damage, we'll determine how it can be prevented from occuring again. After the damage is addressed, we can stain your concrete surface.
Choosing your stain color
See the color options available with SunAcid, SunH20, and SunDye. When choosing a concrete stain color, it is important to remember that the colors may vary slightly—it's part of what makes every stained concrete project unique. Since we're experienced in staining concrete, we can help guide you through the color selection process.
How we stain concrete
Here are the general steps we follow for applying the stain (details vary depending on products used and the type of project):
Clean and prep the surface.
Allow surface to dry completely.
Prepare the product by mixing or diltuing according to instructions.
Apply the stain using a srayer, roller or brush.
Neutralize if using and acid stain.
Allow the stain to completely dry.
Apply a sealer to protect and preserve your newly colored concrete.
Who stains concrete near me?
We work in all the major cities in the area including:
Arlington, Alexandria, Fairfax, and Reston, Virginia
Bethesda, Frederick, Gaithersburg, and Hagerstown, Maryland
Washington D.C. and beyond
If you'd like to talk to us about your project, fill out the form on this page and we'll contact you.
You can also contact us by phone at 866-631-8664
Or by email: [email protected]
We look forward to helping you with your project!