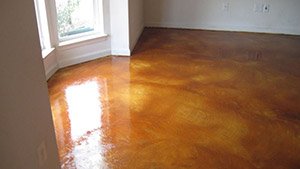 When it comes to decorative concrete coatings, design options are limitless. Stained concrete is a popular choice because there are a wide variety of concrete stain colors to choose from. You can also choose to create a customized pattern, design, or logo for your stained concrete floor.
Staining options
SUNDEK has three different products we use for staining. The product that's right for your project really depends on what look you're going for. This 2-minute video gives insight into the three SUNDEK stains and what they offer.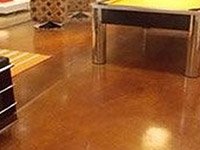 SunAcid is an acid-based stain that etches the surface where it reacts to chemical compounds, creating a translucent marbled effect. When using SunAcid, you have a variety of earth-toned colors to choose from.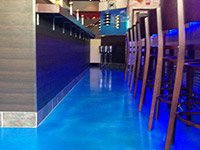 SunH20 is a water-based stain that doesn't etch the surface but still lasts a long time because of its adhesive properties. Colors can be layered and combined, so there are many color options available. Whereas colors with SunAcid are earth tones, colors with SunH20 are more vibrant. Water-based stains are a better option for people who have allergies or other sensitivities that can be triggered by the compounds in acid-based stains. With SunH20, you get a look that ranges from opaque to translucent.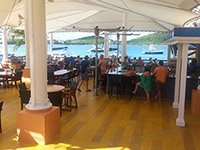 SunDye is a liquid that is soluble in water or acetone. When used in combination with water, you'll get color variation. When used in combination with acetone, you get a darker, monotone look. It can be used on its own or with SunAcid to get a specific color.
Contact us and we can help you decide which product is right for your project.
Damaged floors
Customers often ask if their damaged concrete floors can be stained. We're happy to report that the answer is yes! At SUNDEK, our specialty is concrete surfaces so we are skilled at fixing cracks, chips, or other damage in concrete surfaces. We will look into the damage and see how it can be prevented in the future. After the damage is addressed, we can stain your concrete surface.
Choosing your color
Take a look at the color options available with SunAcid, SunH20, and SunDye. When choosing a concrete stain color, it is important to remember that the colors may vary slightly—it's part of what makes every stained concrete project unique. SUNDEK of Washington is experienced in staining concrete, so we can help guide you through the color selection process.
Contact us about your stained concrete project
If you'd like to talk to us about your project, fill out the form on this page and we'll contact you.
You can also contact us by phone at 866-631-8664
Or by email: info@sundek.com
We work in all the major cities in the area including:
Arlington, Alexandria, Fairfax, and Reston, Virginia
Bethesda, Frederick, and Gaithersburg, Maryland
Washington D.C. and beyond
We look forward to helping you with your next project!