Hotels & Motels – Decorative Concrete Coatings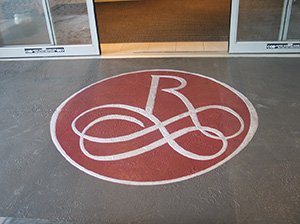 See more hotel and motel pictures
For decades, SUNDEK of Washington has been helping hotel and motel property owners resurface their pool decks, patios, entries, and more.
At SUNDEK of Washington, we know you want a surface that's long lasting, slip resistant, easy to clean, and beautiful. We've got you covered! With SUNDEK products, your surface will be:
Long lasting. We install floors in locations that see a lot of heavy machinery and serious spills—places like airport hangars, factories, manufacturing plants, and more. That means we know how to create a surface that will last a long time. The high-quality sealer we apply protects your surfaces from stains and other damage.
Slip resistant. By giving your floors a texture, we can make them slip resistant so you don't have to worry as much about accidents around your pool or other spots at your hotel or motel. This is especially critical in this area of the country where we get a lot of precipitation.
Easy to clean. Maintenance staff is often pleasantly surprised at how easy it is to maintain a SUNDEK decorative concrete floor. With our high-quality sealer, we can make your surface non-porous so it doesn't absorb water and other liquids that might cause stains.
Beautiful. Of course durability, safety, and maintenance are priorities, but we understand that you want your hotel or motel to have an aesthetic appeal for your guests whether they're walking into the front lobby or lounging by the pool. You can choose from a variety of colors, patterns, and textures so your hotel or motel floor provides the right aesthetic for your guests. If there's a particular flooring material with a look you love, we can mimic that, too (for example, wood, brick, limestone, etc.).
How long will it take for SUNDEK to complete your project?
The length of time it will take to complete your project depends on the size, the condition of your existing surface, and what type of design you're looking to do. We understand that you can't afford to have large areas of your hotel or motel closed for a long period of time, so we pride ourselves on working efficiently so that you can get back to business as usual.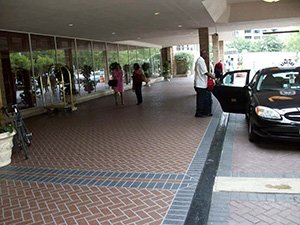 A stenciled overlay was used to renovate the front entrance of the Omni Shoreham Hotel in Washington, DC.
Contact us about your project
If you'd like to talk to us about your project, fill out the form on this page and we'll contact you.
You can also contact us by phone at 866-631-8664
Or by email: [email protected]
We work in all the major cities in the area including:
Arlington, Alexandria, Fairfax, and Reston, Virginia
Bethesda, Frederick, and Gaithersburg, Maryland
Washington D.C. and beyond
We look forward to helping you with your next project!