Concrete Waterproofing Coatings & Membranes in Washington DC
Increase the lifespan of your concrete surface by protecting it from water damage
Especially in this area of the country where we get a significant amount of precipitation, it is important to take steps necessary to prevent water from damaging your surfaces.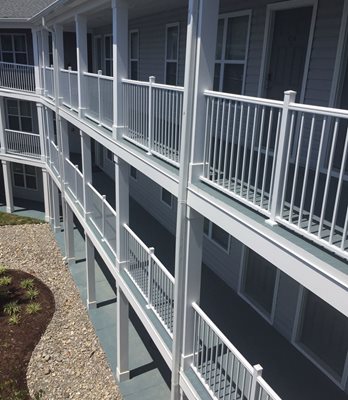 At Chesapeake Crossing Apartments, a 55+ living community, SUNDEK of Washington used SunLastic to provide waterproofing on the balconies.
How can water damage concrete?
Although it's a sturdy material, concrete is porous—which means its vulnerable to damage from water. If water seeps into a concrete surface, the concrete will expand and contract during freeze and thaw cycles. Over time, the repeated expanding and contracting will create damage such as cracking, spalling, and/or other issues.
Get a free quote
How to protect concrete from water damage
The best way to protect your concrete from water damage is to waterproof your surface. There are many products on the market available to purchase that you can use. For the best results, though, we recommend a professional-grade waterproofing material.
How does waterproofing protect concrete?
A concrete surface that's been coated with a waterproofing layer is protected from water damage of course, but the protection goes far beyond just that. Here are some of the benefits of waterproofing:
Easier to clean. The waterproofing later makes the surface non-porous, making it easy to spray off dirt and other debris.
Resistant to stains. Since the surface isn't penetrable, stains are less likely to stick around. Stubborn spots can be resolve with a non-abrasive commercial cleaner (check with your contractor for specific recommendations for your site and always read product labels before putting them on your surface).
Resistant to developing mold or mildew. Since the waterproofing layer repels water from seeping into its surface, you won't have the issues with standing water that you would with a surface that hasn't been waterproofed. That's what makes waterproofing an appealing choice for people with basements or other rooms that might not be frequently used.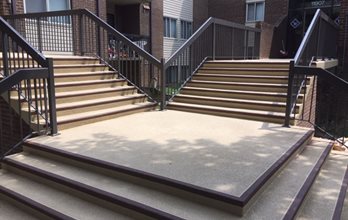 At the Winterthur Apartments in Reston, VA, SUNDEK of Washington used SunLastic on this landing area and stairs.
The best concrete waterproofing products
SUNDEK's line of SunLastic products are professional grade and formulated to provide the best protection possible. SUNDEK has been creating concrete coatings since 1970, so all SUNDEK products are tried and true. SUNDEK has two waterproofing products:
SunLastic WP50 is a fluid elastomeric waterproofing membrane, which, in simple terms, means it creates a stretchy layer that blocks water. After a surface is coated with WP50, it can be coated with any of SUNDEK's decorative coatings, including SunLastic EPC35 to create a flexible waterproof surface.
This rubber-like liquid, is mixed with a cement-aggregate blend which produces a tough, water-retardant coating. Although it's very flexible, it is notably resistant to abrasion.
The right SunLastic product depends on your project. If you're not sure which one is right for you, contact us for a free estimate. We'll come to your site, do a project analysis, and recommend the product that's best for your project.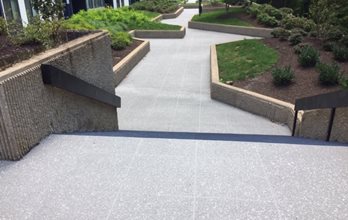 At The Arrive in Alexandria, VA, SUNDEK of Washington used SunLastic in combination with SUNDEK's decorative products to resurface 34,000 square feet of concrete including this landing, stairs, and walkway.
Spaces that benefit from waterproof coatings:
Here are some of the areas that we have found benefit most from waterproofing.
Balconies
Basements
Decks
Gym floors
Kitchens
Laundry rooms
Locker rooms
Parking structures
Pool decks
Restrooms
Roof decks
Stairs
Storage closets
Walkways
Warehouse floors
What does waterproofing look like on a concrete surface?
Fortunately, functional surfaces can also be beautiful. Since we use SUNDEK's SunLastic products, we can create essentially any design that could be created without a waterproofing layer. We use the SunLastic products with SUNDEK's other decorative coatings so that you can get the look you want with the protection you need.
When it comes to design, you just need to tell us your vision and we can make it happen. We have many colors, textures, and patterns to choose from, and we can even create the look of limestone, wood, cobblestone, or any other material you like.
See a project we completed at high-end apartment complex in Alexandria, VA, where we used SunLastic in combination with SUNDEK's decorative products to resurface 34,000 square feet of concrete.
How to waterproof your concrete surface
We highly recommend hiring a professional contractor such as SUNDEK of Washington to apply waterproofing to your concrete surface. An experienced contractor knows the ins and outs of applying these types of products and knows what common pitfalls to look out for.
Though this isn't meant to be a comprehensive guide to waterproofing your surface, here is the general overview of how it works:
Prepare. To prepare the surface for a waterproof coating, you need to sand and clean it so that the coating can properly adhere to it.
Repair. Any existing damage such as cracks, chips, etc. needs to be resolved.
Prime. Priming the surface will allow the waterproofing layer to adequately adhere.
Apply waterproofing product. During this step, the waterproof coating needs to be applied as evenly as possible for the best results. It must also be applied according to the instructions on the product label.
Apply a sealer. A sealer on top of the waterproofing membrane will provide an extra layer of protection to your surface.
Contact us about your project
If you'd like to talk to us about your project, fill out the form on this page and we'll contact you.
You can also contact us by phone at 866-631-8664
Or by email: [email protected]
We work in all the major cities in the area including:
Arlington, Alexandria, Fairfax, and Reston, Virginia
Bethesda, Frederick, and Gaithersburg, Maryland
Washington D.C. and beyond
Related: Sealing Concrete