Concrete Coatings for Military & Government Facilities
At SUNDEK of Washington, we've worked with military and government organizations to install decorative concrete at facilities ranging from gyms to pool decks in the DC, Virginia, Maryland, Delaware, and Virginia areas.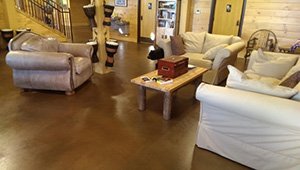 See more pictures of coatings at military and government facilities
Why work with SUNDEK of Washington?
We are skilled at working with specific timelines and budgets. Our trained, experienced, professional contractors will complete your project to your standards and provide excellent communication along the way. Since we've been installing concrete in this region for several decades, we know how to deal with our brutal winters, too. We also know the best time to install your coating and the best way to protect it.
Why choose decorative concrete or epoxy coatings for your flooring?
Durable & Long-Lasting. Decorative concrete and epoxy coatings can withstand a lot of weight and traffic. We have installed coatings in airport hangars and other places that need to house heavy machinery, so we are well versed in creating surfaces that can withstand a lot and will last for years to come.
Easy to maintain. Many of our customers are surprised to find that decorative concrete or epoxy coatings are simple to clean. General cleaning requires sweeping or hosing off dirt or other debris as needed. For tougher spots, you can use a non-abrasive commercial cleaner or a SUNDEK cleaner. (See more about maintenance.) We will also apply a high-quality sealer to your surface. The sealer will protect it from spills and damage from heavy tools or machinery.
Safe. By applying a specific texture, we can make sure your surface is not slippery. This is critical on pool decks, but also gym floors and entrances to facilities where people may be tracking in snow or precipitation. We'll strive to make your surface as safe as possible to help prevent slip-and-fall incidents.
Beautiful. You can choose from a variety of colors, patterns, and textures. If you like brick, wood, cobblestone, or any other material, we can also create that look for you. Some facilities choose to have a logo stamped onto their surface. We can do that, too!
How long will we have to close our facility for resurfacing?
The length of time it takes to complete your project depends on the size of your space, the condition of your existing surface, and the type of design work you want done. We pride ourselves in working efficiently so that you can get back to business as usual as soon as possible.
Contact us about your project
If you'd like to talk to us about your project, fill out the form on this page and we'll contact you.
You can also contact us by phone at 866-631-8664
Or by email:
[email protected]
We work in all the major cities in the area including:
Arlington, Alexandria, Fairfax, and Reston, Virginia
Bethesda, Frederick, and Gaithersburg, Maryland
Washington, D.C. and beyond
We look forward to helping you with your next project!