Healthcare, Schools & Churches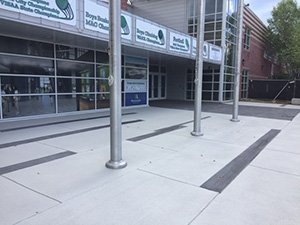 See more pictures of healthcare facilities, schools & churches
At SUNDEK of Washington, we have years of experience installing decorative concrete and epoxy coatings for various commercial spaces in this area of the country. At locations such as healthcare facilities, schools, and churches, there's a lot going on, so proper flooring is important.
Why choose SUNDEK for your project?
Our products are durable. After applying your decorative concrete or epoxy coating, we will seal it with a high-quality sealer. The sealer will protect your surface from getting damaged by spills (chemicals, oil, etc.), inclement weather, heavy machinery, and more.
We prioritize safety. With all of the foot traffic, vehicle traffic, movement of equipment from room to room, and more, we want to ensure that your surfaces are non-slip, even when they get wet. That's why we apply a texture that creates traction, reducing the likelihood of a slip-and-fall accident.
We understand that you can't afford to close large areas for a long period of time. While we always do a quality job, we also work efficiently so that you can resume business as usual.
We want you to get the look you love. When it comes to design options, the sky is the limit. SUNDEK has a variety of colors, patterns, and textures available so you can get a surface that coordinates with the aesthetic of your facility.
Can you also do indoor surfaces?
Yes! We resurface floors in both indoors and out—in spaces ranging from restrooms to parking structures.
Contact us about your project
If you'd like to talk to us about your project, fill out the form on this page and we'll contact you.
You can also contact us by phone at 866-631-8664
Or by email: [email protected]
We work in all the major cities in the area including:
Arlington, Alexandria, Fairfax, and Reston, Virginia
Bethesda, Frederick, and Gaithersburg, Maryland
Washington, D.C. and beyond
We look forward to helping you with your next project!