Parks, Clubs & Municipal Facilities – Decorative Concrete Coatings
At facilities where there will be a lot of foot traffic, it's ideal to have flooring that's durable, long-lasting, safe, easy to maintain, and beautiful.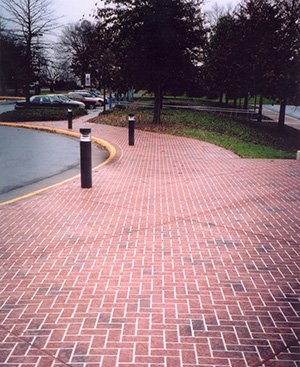 See more coatings at parks, clubs & municipal facilities
SUNDEK of Washington creates surfaces that are:
Durable & long-lasting. We know how to create a surface that can withstand just about anything—we've installed coatings in places such as airport hangars and mechanic shops. Since your park, club, or municipal facility will see a lot of foot traffic and possibly heavy equipment, we will make sure it's built to last. We will also apply a high-quality sealer that will protect your surface. We're familiar with the brutal winters of this area, so we also know what you need to do to protect your outdoor surface from snow and ice.
Safe. With members of the public, employees, and customers walking around your facility, it's critical that your flooring is safe. At SUNDEK of Washington, we make sure that your spaces are not only free of trip hazards, but we also install a texture that makes them slip resistant to help prevent slip-and-fall accidents. This is not only critical in areas such as pool decks or splash pads, but also in locations where people will be tracking in snow or other precipitation.
Easy to maintain. Maintenance staff is often pleasantly surprised that SUNDEK surfaces are simple to keep tidy. General maintenance requires sweeping, blowing off, or hosing off dust and debris. Hard-to-remove stains can be resolved using a non-abrasive commercial cleaner or a SUNDEK cleaner formulated specifically for our products. See more about maintenance.
Beautiful. While all of the qualities mentioned above are important, we know it's also nice for you to have flooring that looks great. There are a variety of colors, patterns, and textures to choose from. If you like the look of brick, wood, limestone, cobblestone, or any other flooring materials we can create that look for you. Additionally, we can create a custom stamp to imprint your logo on your surface. The sky is the limit when it comes to design!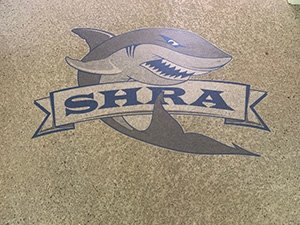 We applied this custom logo to the floor at the Sleepy Hollow Recreation Association in Falls Church, VA.
How long does it take for SUNDEK of Washington to complete a project?
The length of time it takes for us to complete a project depends on the size of the space, the condition of the existing surface, and the type of design requested. One thing is for sure: We work as hard as possible to make sure your new coating is installed and ready for use as soon as possible. That way you can resume business as usual.
Contact us about your project
If you'd like to talk to us about your project, fill out the form on this page and we'll contact you.
You can also contact us by phone at 866-631-8664
Or by email: [email protected]
We work in all the major cities in the area including:
Arlington, Alexandria, Fairfax, and Reston, Virginia
Bethesda, Frederick, and Gaithersburg, Maryland
Washington D.C. and beyond
We look forward to helping you with your next project!