Apartments & Condominiums – Decorative Concrete Products
If you're looking to enhance the shared spaces for your residents living in your apartments or condominiums, look to decorative concrete.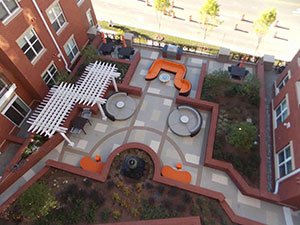 See more pictures of coatings at apartments & condos
Why decorative concrete?
It's beautiful. With decorative concrete, you can choose from a wide variety of colors, patterns, and textures so the look of your new flooring is right for your space. If you love the look of brick, cobblestone, limestone, or any other flooring materials, SUNDEK can create that look for you.
It's easy to maintain. Our customers are often surprised that maintaining decorative concrete is simple. In general, you need to sweep and hose your decorative concrete regularly to keep it free of dirt and debris. For hard-to-clean spots, you can use a non-abrasive commercial cleaner or SUNDEK products. A high-quality sealer will protect your surface for years to come. Read more about maintenance here.
It's safe. At SUNDEK of Washington, we make safety a priority. By giving your surface a texture, we can make it slip-resistant, reducing the chances of slip-and-fall incidents. This is especially critical in this area of the country where we see a lot of precipitation.
Why work with SUNDEK of Washington?
We've been installing decorative concrete coatings at private residences and commercial spaces in this area for several decades so we're well versed in the nuances of the region. We know what texture to apply to make sure your surface is sufficiently slip resistant. We know the right weather conditions to install in so you get the best results. We know what type of sealer to use and how often to reseal for the best results. (Get more information about sealers.)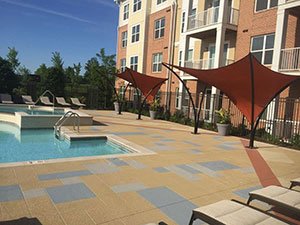 A pool deck coating at Duvall Westside Apartments in Laurel, MD.
What types of surfaces can be resurfaced at apartments or condos
The short answer is that we can install a decorative concrete coating to any surface! The most common surfaces we work on at apartments and condos are pool decks, common areas, lobbies, entries, playground surfaces, and gym flooring.
Featured project: Decorative Waterproofing at High-End Apartments in Alexandria
How long does it take to install a decorative concrete coating
The length of time it will take to complete your project depends on the size of the space, the condition of your existing surface, and the type of design work you want to have done. One thing is for sure: we work hard to make sure to complete your project as soon as possible so your residents can go about their usual routines.
Contact us about your project
If you'd like to talk to us about your project, fill out the form on this page and we'll contact you.
You can also contact us by phone at 866-631-8664
Or by email: [email protected]
We work in all the major cities in the area including:
Arlington, Alexandria, Fairfax, and Reston, Virginia
Bethesda, Frederick, and Gaithersburg, Maryland
Washington, D.C. and beyond
We look forward to helping you with your next project!