Offices & Business Parks – Decorative Concrete Coatings
Installing beautiful coatings for businesses throughout DC, Arlington, Bethesda and beyond
It's no secret that the aesthetics of a workplace can positively impact the employees who work there. SUNDEK of Washington has been helping beautify offices and business parks for decades by installing beautiful decorative concrete coatings.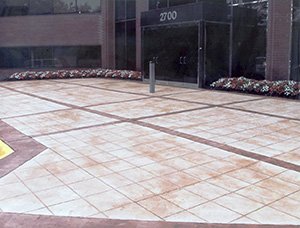 See more pictures of offices & business parks
Decorative concrete floors make a beautiful addition to offices and business parks, and they have a host of other benefits:
They're durable. Whether the decorative concrete coating is in your office park's parking lot or your office bathroom, you can be assured that since we're using SUNDEK products, the surface will be able to withstand everything from foot traffic to heavy vehicles. And our high-quality sealer will protect it from stains and other damage.
They're easy to clean. Maintenance staff is often pleasantly surprised to find that it's fairly simple to maintain a decorative concrete surface by SUNDEK. Our sealers make the surface non-porous so it's less likely to stain. General maintenance requires sweeping or blowing off the surface and using a commercial non-abrasive cleaner to take care of hard-to-remove spots.
They're slip resistant. With a lot of foot traffic, slip-and-fall accidents are a concern—both indoors and out. Outdoors, you have employees getting in and out of their cars during inclement weather; indoors, you have people tracking in snow and rain or spills happening in communal breakrooms. We apply a texture to our surfaces to make sure they're not slick.
Are decorative concrete coatings for indoors or out?
At SUNDEK of Washington, we can do both! We resurface anything from bathrooms to porte-cochères.
How long does it take to complete a decorative concrete coating project?
The length of time it will take to complete a project at your office or business park depends on how large the project it, the state of your existing surface, and what type of design you're looking to do.
Contact us about your project
If you'd like to talk to us about your project, fill out the form on this page and we'll contact you.
You can also contact us by phone at 866-631-8664
Or by email: [email protected]
We work in all the major cities in the area including:
Arlington, Alexandria, Fairfax, and Reston, Virginia
Bethesda, Frederick, and Gaithersburg, Maryland
Washington, D.C. and beyond
We look forward to helping you with your next project!