Concrete Driveway Resurfacing
At SUNDEK of Washington, we have been resurfacing driveways in Washington DC and the National Capital Region for decades. Your driveway is the first thing people see when approaching your home or business. Why not make it beautiful?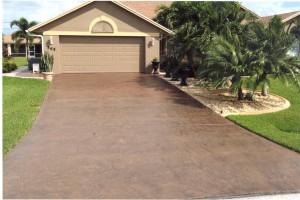 Why resurface a concrete driveway?
People choose to resurface their concrete driveways for a variety of reasons. In some cases, there's minor damage such as cracking or spalling. In other cases, the driveway is just outdated and the homeowner or business owner is ready for an update. No matter your reason, we're here to help. Contact us for a free quote.
How does driveway resurfacing work?
As long as you have a viable concrete surface, we can apply a coating directly to the top of your existing driveway. We can then customize its look using colors, patterns, and textures of your choice.
Check out more pictures of driveway coatings
Design options
We have a variety of colors, textures, and patterns to choose from and we also do custom designs. We encourage our clients to collect pictures they like before meeting with us so we can get a feel for the style you're looking for.
One of the most popular SUNDEK products for concrete driveway overlays is our Classic Texture. Classic Texture is a robust, modern, and clean looking surface finish that provides slip resistance, a range of color choices, ease of maintenance, and a fabulous look. It hides surface imperfections and lasts for years with minimal maintenance.
Some of our most popular finishes for driveways include:
Repair existing damage to your driveway
If your driveway is damaged, that doesn't mean it can't be resurfaced. Contact us so we can come take a look. If your surface is still viable (no large cracks or significant dips) we can repair the damage and resurface your driveway, giving you a brand-new look.
Installation process for a driveway coating
Here's what to expect when our crew comes to your home or business to resurface your driveway:
Preparing. We'll fix cracks, and profile the existing concrete to ensure a good bond.
Cleaning. Next we remove debris and stains using a pressure washer or special cleaning products.
Applying. Our crew mixes and applies the concrete resurfacer using a sprayer, roller or trowel.
Finishing. We'll use stamps and other tools to add pattern and texture to the surface of the concrete slab.
Curing. We let the coating dry long enough to achieve full strength.
Sealing. Finally, we'll protect your new driveway with a durable sealer to prevent stains and weather damage.
A professionally installed driveway overlay that's well maintained can last 15 years or more depending on use. In general, concrete has a much longer lifespan than an asphalt driveway.
Driveway refinishing is a responsible choice
Refinishing is one of the greenest options for people who want to redo a concrete surface. Since driveway coatings do not require the removal of the old concrete, there is very little waste and the concrete overlays are designed to outlast many other driveway surfaces. When installed correctly, overlays have very little impact on the surrounding areas and nature.
Get a free quote