Stamped Concrete Flooring For Your Maryland Restaurant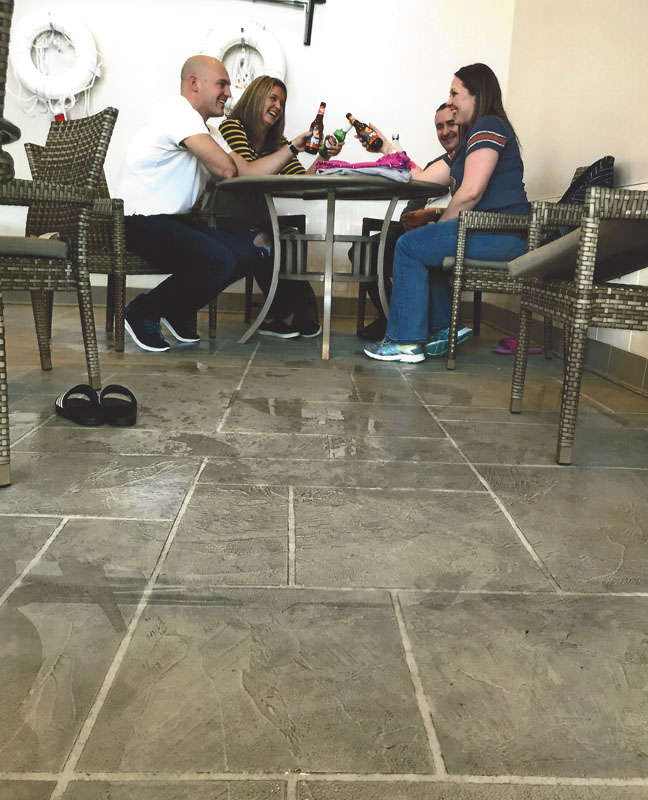 Stamped Concrete Flooring
As a restaurant owner, you have a lot of competition, let stamped concrete flooring give you a competitive edge. Regardless of the type of food you serve, whether Italian, Mexican, American, Chinese, or freshly-caught seafood, there are four ways to boost business. Obviously, you need an incredible menu. You also need to provide impeccable service and affordable prices. However, the décor is just as important, which is where colored concrete can add value to your Maryland restaurant.
Free Analysis & Estimate
Because of its versatility, stamped floors are now all the rage. With a product like SunStamp, you can make an existing floor look like genuine brick, wood, stone, rock, travertine, flagstone, and more. However, you also have the opportunity to consider colored concrete for the design you choose for your Maryland eating establishment.
The goal is to select the right colored concrete, something that helps your Maryland restaurant stand out. That way, the next time people want the cuisine you offer, they will immediately think of your business. After all, when people go out to dinner, they want an environment that makes them feel relaxed, welcomed, and valued.
For starters, choose one or more hues for the colored concrete you want to have applied in your Maryland restaurant based on the type of food served. For example, if your menu consists of delicious dishes from Mexico, consider darker and bolder colors like black, red, orange, and yellow. On the other hand, if you provide patrons with the "catch of the day," then you might want to select colors that represent water like different shades of greens and blues.
The kind of service you provide is another determining factor. As an example, if you have a kid-friendly pizzeria, you should probably go with fun colors that pop such as Pumpkin, Pear, and Cardinal Red. However, for a five-star restaurant, give your patrons high-end colors like Chestnut, Sepia, Russell, or Midnight Blue. You can even have different design elements added to further enhance the overall dining experience.