There is no better way to enjoy the warm summer months than to spend it outdoors in your very own colored concrete pool deck. While the pool is the part most people focus on, it is important not to neglect the area surrounding it – the pool deck. Fortunately, there are many options for a concrete pool deck in Washington that ensure durability, low maintenance, and safety.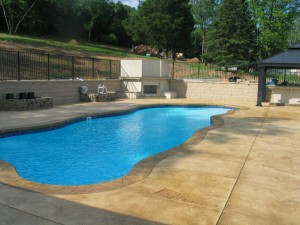 Concrete Pool Deck by Sundek of Washington
Tips for Colored Concrete Pool Decks
The beauty of decorative concrete is that it is a highly versatile and customizable material. If you choose a quality decorative concrete installer, like Sundek of Washington, you have a wide variety of options – especially when it comes to colored concrete for your pool deck.
Request a Free Estimate
Popular Pool Deck Colors
Some of the color options you might consider include:
White or Beige – If you aren't sure what color will match your home, it never hurts to go with a nice sandy white or light beige concrete pool deck. Light colors help reflect sunlight, keeping the pool deck cooler.
Earth Tones – If you want to show off your landscaping in addition to your pool, choose a nice earth tone, like tan, brown, or terra cotta, for your pool deck. These colors are also ideal if you are going for a natural or rustic appearance.
Blue or Gray – Don't be afraid to use dark blues and grays as accent colors for your pool deck – they can give your concrete pool deck the look of weathered slate or flagstone.
Multicolored – If you are feeling creative, you can go with a multicolored concrete pool deck – this is a great option if you are trying to achieve the look of natural stone.
Here's a sample of some of our colors: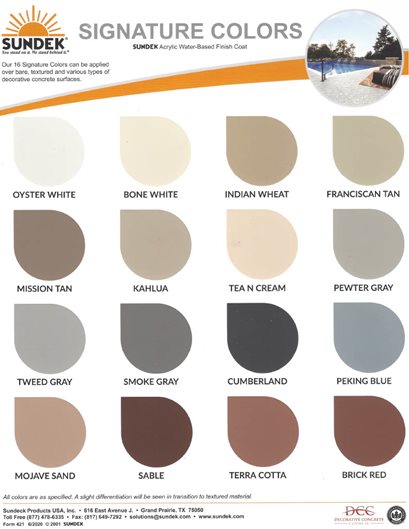 See more color charts
There are many different ways to customize a pool deck, but nothing is better than colored concrete. If you have decided that you want a colored concrete pool deck for your Washington-area home or business, make Sundek of Washington your first call.
How to Change the Color of an Old Pool Deck
If the existing concrete around your pool needs some fresh color, here are your options:
Contact us about your project
If you'd like to talk to us about your project, fill out the form on this page and we'll contact you.
You can also contact us by phone at 866-631-8664
Or by email: [email protected]
We work in all the major cities in the area including:
Arlington, Alexandria, Fairfax, and Reston, Virginia
Bethesda, Frederick, and Gaithersburg, Maryland
Washington D.C. and beyond