How to Choose the Right Color for Concrete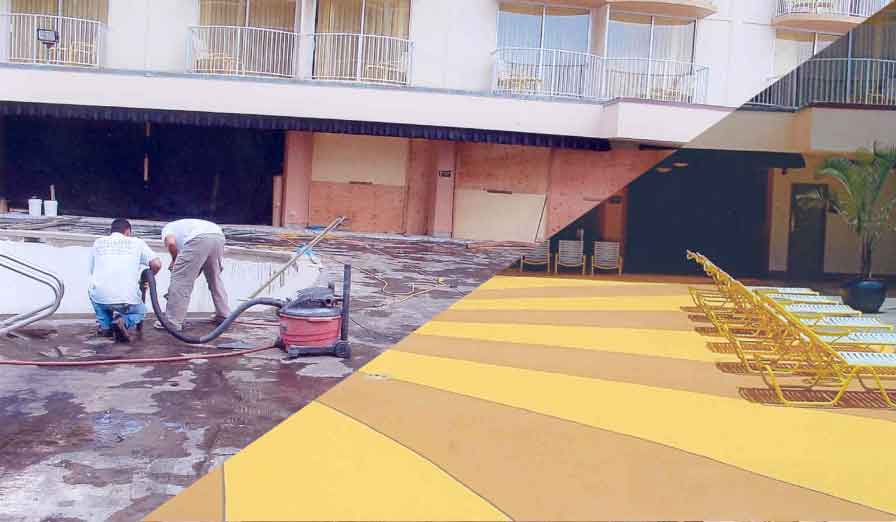 Concrete Restoration
Project - Before & After
One of the best ways to maximize the use of your outdoor space is to build a new walkway or patio using the right color for concrete. For outdoor surfaces that stand the test of time, consider decorative concrete products like those offered by Sundek. We offer a wide range of outdoor concrete colors, so you can choose the option that best suits your Maryland home.
Sundek Products for Outdoor Concrete
If you want to create a unique look with your outdoor surfaces, decorative concrete products from Sundek are the way to go. For walkways and driveways, the best options include the Classic Texture system and the SunSplash system. Both of these options are acrylic spray-on coatings that can be customized with any of Sundek's 16 signature colors, which range from Oyster White to Brick Red. If you want something that will reflect sunlight and keep cool in the summer, choose a lighter color, like Franciscan Tan or Tweed Gray. If you want more depth of color, choose something like Sable or Terra Cotta.
Related: Cool Deck Coatings for Pools
Request a Free Estimate
When it comes to stamped and stained outdoor concrete, you have an entirely different array of options for the right color for concrete. The SunH20 water-based concrete stain, for example, can be applied over stamped and stained concrete products for your outdoor patio or pool deck. This stain comes in 26 vivid color options, including various shades of brown, blue, ad green, as well as shades of yellow and red. You can further customize your outdoor concrete surfaces with a colored acrylic finish coat, like the SunColor system, which comes in all 16 of Sundek's signature color options.
When you are ready to upgrade to new decorative concrete surfaces, be sure to make Sundek of Washington your first call. Not only are we one of Maryland's premier providers of quality decorative concrete products, but our experienced and licensed concrete contractors will install the products for you. View our product catalog online or call today for more information.