Water Based Stains – The Benefits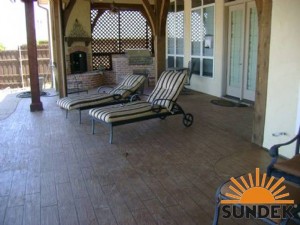 Does your Washington, D.C. home feature concrete floors? If they don't, but you're in the market for new floors, don't forget how great concrete can be. It offers unrivaled durability, is environmentally friendly and extremely kind to your budget. To get even more from this time-tested material, though, consider a water-based concrete stain applied by Sundek of Washington.Stains have long been used to amplify the looks of many materials, most notably, wood and concrete. However, when you choose a water-based concrete stain, you'll have far less volatile organic compounds to worry about. Obviously, this makes your concrete floor even more environmentally friendly. It's also safer for those in your home who may otherwise be exposed to the dangers of volatile organic compounds. If anyone in your family already has allergies or is sensitive to the air they breathe, water-based stains are a no-brainer.
Request a Free Estimate
You'll also get to enjoy your new floor much sooner. When contractors work with acid-based stains and other popular versions, they have to follow up the application with a number of different protocols to be certain that the stain is safely disposed of. Not only do our contractors not have to worry about this with water-based stains, they also won't have to do a wash down afterward either, cutting down the timeline for the entire project.
Fortunately, this doesn't mean your floor is going to lack for options in terms of the final result. In fact, it's just the opposite. When you use a water-based concrete stain from Sundek of Washington, you'll have even more color options than you would if you used an acid-based one. With acid, most of the colors available are earth-toned. With water-based stains, you can choose bright primary colors and many more.
The more colors you have to choose from, the more patterns you can consider as well. The sheer number of complex patterns available for your concrete floor is impressive all by itself.
Once the application is done, you'll be happy to know it's not going anywhere. Water-based stains are renowned for staying on the concrete much longer especially when the Sundek protective coatings are applied. Maintenance will be extremely easy.
No matter what kind of appearance you want, it's worth thinking about how a water-based concrete stain can provide the desired result. You'll also save time, money and do the environment a big favor by going with this popular choice. Call Sundek of Washington today to learn about the many other reasons this stain is the best.