Concrete Walkway, Entryway & Stair Repair
SUNDEK of Washington has been resurfacing walkways, entryways, stairs, and porches in the Washington D.C., Maryland, Delaware, and Virginia areas for decades.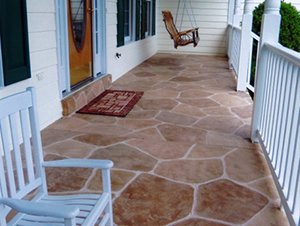 We create decorative concrete surfaces that are beautiful, but it's also important to us that they are durable and slip-resistant. SUNDEK products are of the highest quality, ensuring your satisfaction.
Why hire SUNDEK of Washington?
We've been working in this area of the country for decades so we're well versed in potential problems that can arise from weather. Our expertise means we know the best type of weather to apply coatings and how often your surface needs to be sealed to keep it looking great—even through brutal winters.
Why resurface a walkway or porch?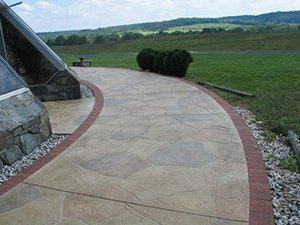 There are a variety of reasons our clients resurface their walkways and porches. Some just want to update the look of their existing surface—maybe the color is faded or the style is out of date. Others have a walkway or porch with an uneven surface, cracks, or other damage.
Can SUNDEK of Washington fix uneven surfaces, cracks, and other damage?
Yes! We can fix most damage to existing surfaces before applying your new coating. Additionally, we are experienced in identifying the cause of damage so that we can prevent further damage from occurring. The result is a beautiful, even surface that doesn't have trip hazards or spots where water puddles.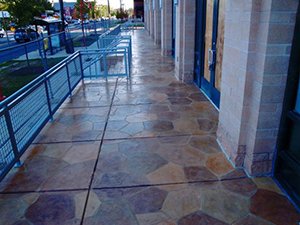 Can an existing walkway be extended?
Yes! If you have an existing walkway that you'd like to extend or widen, we can do that for you. We would pour additional concrete where necessary, then apply a coating to the entire surface. No one will ever know it wasn't that size to begin with.
Design options
The sky is the limit when it comes to designing your walkway or porch. We have many patterns and colors to choose from. If you don't see one you like, we can create a custom color or pattern for you. Additionally, we can mimic the look of brick, limestone, cobblestone, or any other material you like.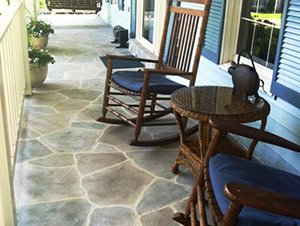 Contact us about your project
If you'd like to talk to us about your project, fill out the form on this page and we'll contact you.
You can also contact us by phone at 866-631-8664
Or by email: [email protected]
We work in all the major cities in the area including:
Arlington, Alexandria, Fairfax, and Reston, Virginia
Bethesda, Frederick, Gaithersburg, and Hagerstown, Maryland
Washington D.C. and beyond
We look forward to helping you with your next project!
See pictures of walkways, entryways, and stairs