A Luxury Apartment Complex Gets a Sophisticated Pool Deck
At The Emerson in Centreville, VA, SUNDEK of Washington crafted a durable and safe pool deck with a sleek design.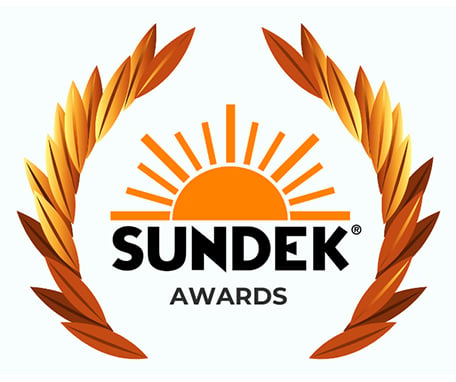 2020 GOLD Commercial
When developers JLB Partners began working out their plans for The Emerson, luxury apartments in Centreville, Virginia, they knew that an apartment complex with such a sophisticated style would need more than just an average pool deck. That's why the project manager for the complex—Nick Sparaco with JLB Partners—contacted SUNDEK of Washington (SOW). Known for reliability doing high-quality work, SOW resurfaces all types of surfaces residential and commercial properties in D.C., Virginia, Maryland, and the surrounding areas. Pool decks are just one of their many specialties among others, including patios, interior concrete floors, driveways, and more.
The Emerson, which is located about 25 miles east of Washington, D.C., is a 355-unit apartment building. With all those apartments, it was critical that the pool deck be durable and capable of withstanding the massive amounts of foot traffic it would eventually see from the apartment complex's residents.
SOW is known for installing surfaces that catch the eye that are also sturdy enough to handle everything from chlorine constantly being splashed on its surface to lounge chairs being dragged across it, plus more. In addition to the pool deck, SOW was also asked to resurface a connecting breezeway that would be designed to match the pool area.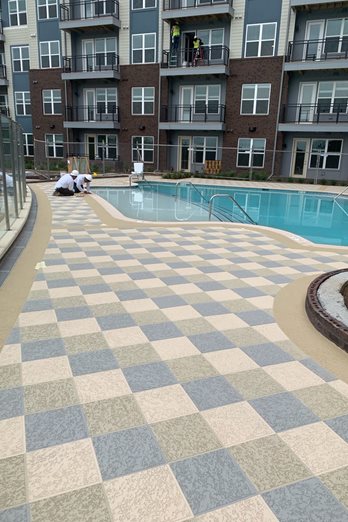 SUNDEK of Washington crews exemplified scrupulous attention to detail while hand-taping each one of the 12-inch by 12-inch squares that make up the patterned pool deck.
For this project, SOW chose to use SUNDEK's most tried and true product: Classic Texture. Developed in 1970, Classic Texture is the product that launched SUNDEK's business and completely changed the way pool decks are surfaced. In addition to being one of the most economical and durable decorative concrete coatings available on the market, it has a texture that makes it surprising comfortable to walk on. Some call this quality "cool decking"—the ability for the surface to stay temperate despite hot summer temperatures. This is a critical quality for a pool deck in apartment complex. A temperate surface means that residents of The Emerson and their guests can comfortably hang out by the pool on hot days without having to run across the deck to avoid burning their feet.
Contact us for a free quote
Classic Texture, a non-porous acrylic water-based spray texture system, prevents dirt, oils, and chemicals from penetrating the surface. We often hear that maintenance crews love surfaces coated by SUNDEK because they are so much easier to clean than other flooring materials. Especially in a high-traffic area such as this one, it's imperative that the surface doesn't soak up everything that lands on it. This resistance to stains means the surface will remain beautiful for the residents of The Emerson for years for come.
Finishing off the surface with a high-quality sealer is also imperative. We always tell clients that if they are going to invest the time and money into a new surface, it's important to seal it to protect it from daily wear and tear and other damaging elements.
One of the most common concerns for anyone putting in a pool is safety. JLB Partners wanted to ensure that the pool deck would be safe for residents to walk on, even when it's wet. At SUNDEK, the safety of the people who walk on our pool decks is of upmost importance to us. That's why we've developed products and techniques for making sure our surfaces are slip resistant. Our success in this area is one of the reasons we're a trusted contractor for installing pool decks, splash pads, and other surfaces in locations such as apartment complexes, community centers, gyms, water parks, schools, and more. Read more about how we make our surfaces slip resistant.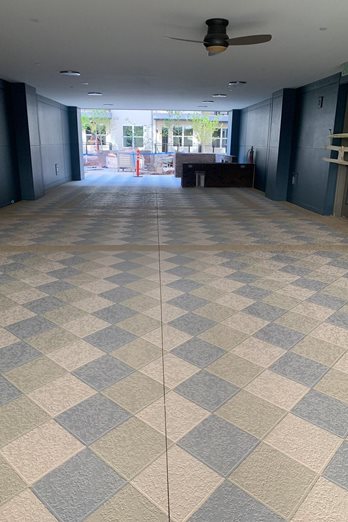 SUNDEK of Washington also resurfaced an adjacent breezeway that connects to the pool deck.
A pool deck that would be viewed from many of the individual apartments at the complex needed to be nice to look at, and SOW delivered. While the plan began with the idea in mind to create the look of tiles, collaboration led to incorporating a border around the edge of the pool and the edge of the deck, with a tile pattern in between. To create this look, the SOW crew hand-taped each 12-inch by 12-inch tile—a painstaking endeavor—and colors were chosen to coordinate with the colors of the apartment building.
SUNDEK has standard colors available for each product, and there are 16 standard colors to choose from for Classic Texture. While SUNDEK contractors are always happy to create custom colors for clients, in this case SOW used four out-of-the-box colors: Tea N Cream, Indian Wheat, and Tweed Gray for the squares and Franciscan Tan for the borders. This combination of neutral colors set in this particular pattern creates a look that's eye-catching but also timeless. It's also important to note that these lighter colors retain less heat than darker colors, which also contributes to the overall comfort of the deck on warm to hot days.
Over the course of a month, the SOW crew was able to resurface the 4,700-square-foot multicolor pool deck and connecting breezeway. According to Bob Miller, vice president of SOW, it was due to head crew leader Manuel Nune's expertise and diligence that they were able to complete the project within the requested timeline and, most notably, under budget despite having to meticulously hand tape the pattern. The result is a stunning feature for many residents of The Emerson to see from their apartments, and a resort-like spot for all to enjoy during warm summer days.
Interested in getting a free estimate for your residential or commercial project? Contact us!