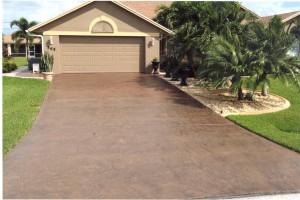 You have many options when it comes to driveway construction. For instance, you can opt to have it paved with asphalt, or you might go for a more expensive route and have it paved with bricks or cobbles.
New Options Add Beauty
One of the most popular options for cement driveways today is to use stamped concrete to emulate the look of another paving type. For instance, with stamped concrete, you can easily make your concrete driveway look like it's made of bricks or natural stone. With the right stamping pattern and the right color, you can add immense beauty to your home.
Driveway Resurfacing
Even those who currently have a plain,boring driveway can benefit through driveway resurfacing. This process sounds like it's only about repairing cracks and chips, but it can do much more.
This gives you the look of stamped concrete, but you don't need to demolish your existing driveway and pour a new one with a stamped pattern. An overlay is applied to your concrete, and is then stamped and colored. Once the overlay has dried , it is permanently bonded to your existing concrete.It offers a great look that can help your home a stand out.
Green Benefits
You will also find that using driveway refinishing is one of the greenest options in Washington DC and all its surrounding areas. Since driveway coatings are made with renewable resources and can also contain recycled materials, they are more environment friendly. They are also longer lasting than asphalt driveways or those constructed from other materials.
You need to choose the team that has the skill and ability to provide you with the best service.