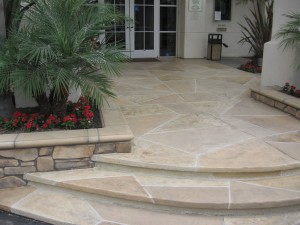 Over time, sun and exposure to other elements will make concrete crack. Weathered concrete needs to be repaired as quickly as possible. If left unrepaired, water and debris can work into those cracks and cause enormous damage. If you find yourself in need of commercial concrete flooring, then you need to know about the available options.
Commercial concrete floor coating services offer companies aesthetically pleasing solutions without the cost and time required for a new pour. Rather than paying for a contractor to tear out your old concrete, why not resurface it to add beauty and functionality?
Safety Enhancements
In addition to style, you will find that this type of concrete floor coverings  can also make your business a safer place for your clients, customers and suppliers. A contractor can apply a textured overlay, epoxy coatings that will offer a nonslip surface even when wet. That provides greater peace of mind, as well as making you a responsible business, looking out for their customers.
Choosing a Concrete Contractor
Of course, it's vital that you choose the right contractor. It's important that you opt for an industry leader and innovator, one that is committed to providing the best services.