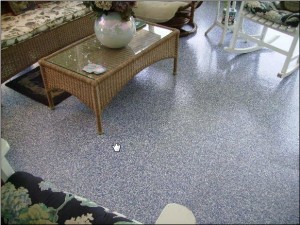 Whether you want to use your basement as a guestroom, workout room, office space, storage space, or a game room, the material of your basement floor is an important consideration. Since a basement is often one of the least frequented spaces in many homes, it's a spot that is often victim to water damage because leaks or spills can easily go unnoticed. (Take a look at other rooms in your house that can benefit from a SUNDEK floor!)
Here's why polyaspartic or epoxy floors are the best flooring option for basements:
They're durable. When finished with a high-quality sealer, these types of floors resist water damage from moisture or leaks. They can withstand the weight of heavy equipment and resist stains from oil, grease, antifreeze, chemicals, and more.
They're beautiful. You can choose from varying shades of gray, or choose a specific color. You can even have additives applied. For example, you can add quartz beads, metallic flakes, colored glass, or create a mirror-like finish.
They're easy to clean. Clients are often amazed at how easy these floors are to clean. Simply wipe up spills as you notice them. Since the floor is non-porous, it won't soak up stains or moisture.
They're superior to other types of flooring. Unlike carpet, an epoxy or polyaspartic floor won't get dust mites or other allergens. They don't have grout lines like tile, and you don't have to worry about termites like you do with wood.

Contact us for more information or to get started on your basement project!