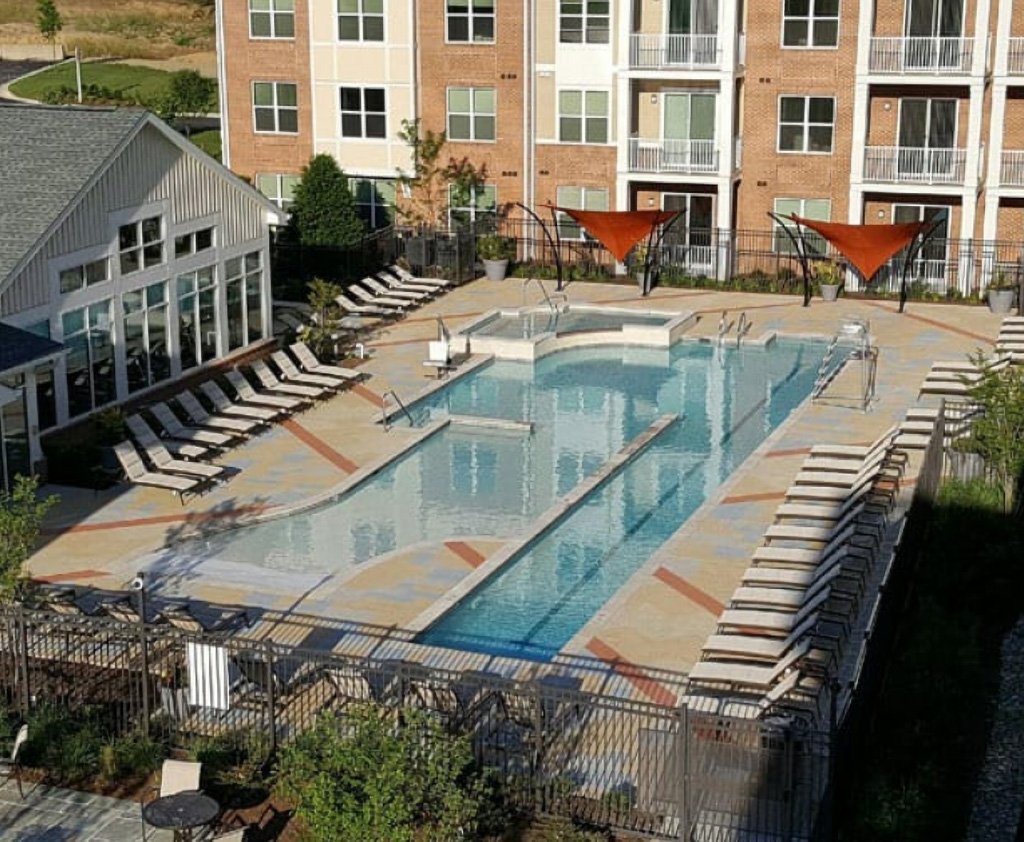 At Duvall Westside, an upscale apartment community in Laurel, Maryland, the architect wanted the newly installed pool deck to have a unique, colorful design. Parker Rodriguez, the project's general contractor, contacted SUNDEK of Washington to design and install the 4,995-square-foot pool deck.
SUNDEK used their Classic Texture system for the pool deck coating. Classic Texture is popular for its many benefits. In addition to being able to use it to create just about any design with it, Classic Texture is also slip resistant, comfortable to walk on with bare feet, and it lasts a long time. Since it's non-porous, it's also easy to maintain.
After applying the Classic Texture coating to this pool deck, the crew taped and carved the design by hand. Then they applied color with five signature SUNDEK colors: Tweed Gray, Indian Wheat, and Franciscan Tan make up the majority of the surface. Rectangles of Peking Blue are distributed throughout, and bands of Terra Cotta run along the surface diagonally for an eye-catching look.
In addition to creating a beautiful pool deck for apartment residents, SUNDEK completed the project on schedule, making for a happy general contractor and customer. In addition to doing work in Maryland, SUNDEK of Washington works on both commercial and residential properties in the Washington, D.C., Delaware, and Virginia areas.